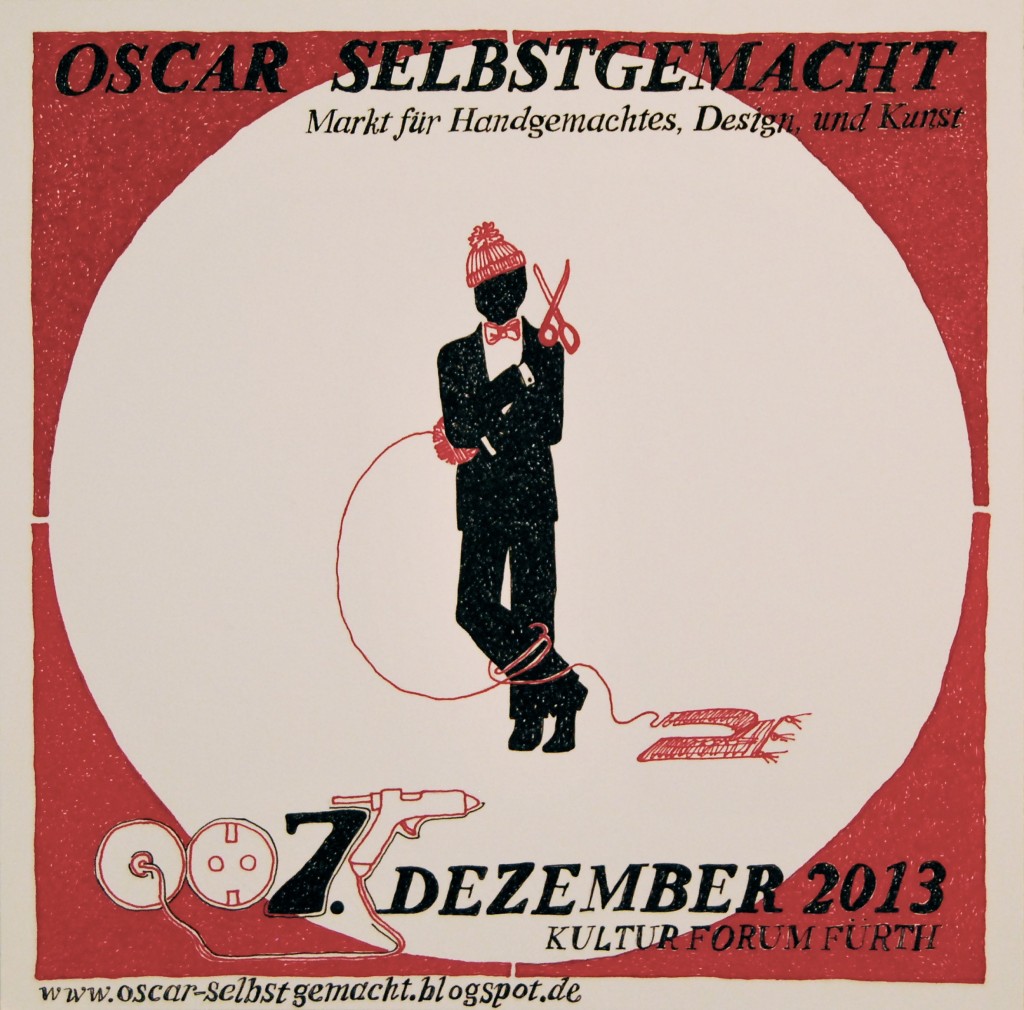 Last year during the Christmas season I did a bunch of gift shopping at the Weihnachtsmarkts. (Christmas Markets) I also visited a few Craft Bazaars and Designer Shows. There was one event in particular that I really enjoyed. It was called Oscar Selbstgemacht. Maybe you remember me writing about it last December. At any rate, the event is on again this year…and I'm going to participate! An added bonus to my ability to participate is the chance to win a free booth. Oscar is having a competition this year for a new campaign design. The above photo is my entry. I'll know by today if it was chosen or not.
Whether or not my booth is free I am still delighted to be leaping into the world of ultra-hip art and craft appreciation in Germany. Many of the vendors here are young, fun, and trendy. They sell their fabulous wares, for one day, in a modern cultural center with a great restaurant, along side live entertainment all day. I'll get the opportunity to greet the local community of Fürth, practice my German, hopefully meet a few English speakers, and take my small business to a new level.
The artisans of the surrounding area of Nürnberg and Fürth, mostly those that participate in Oscar Selbstgemacht, have a monthly meeting. The purpose of these meetings is to eat, drink, socialize, network, and plan for the upcoming Oscar event. This month I decided to attend the meeting. Like all new things, I had a bit of anxiety before going. It's always intimidating to join a new crowd, but it's especially so when you do not fully speak the language of the crowd. It took a bit of driving and a bunch of courage to get myself to the meeting, but the rewards were ten-fold. As you know, in moving to Germany I had set a few goals for myself. Namely, I was going to try my best to learn the language and I was going to try my best to sell my scarves around town. This social event proved to help me do both. Now I know some of the familiar faces of the event. I have met them, spoke with them, and traded business cards. I am thrilled to now say I have German Artist friends. I enjoy all my friends, but it is great to have those that understand your career-hardships. I didn't spend more than two hours at the meeting; and it was (of course) all in German. Even though I didn't understand half of what was said, a lot of smiles and slow speaking were exchanged. The group immediately made me feel comfortable and I hope my relationship with these new people grow.
Below I have taken the time to highlight some of the artists whom I met in depth. Each of these women have unique businesses of high quality products. You can find them online or find them at Oscar Selbstgemacht at the Kultur Forum in Fürth on December 7th. Click the image for a link to their websites.
This is not the last time I will be seeing these artists. Therefore, this is not the last time I will be writing about my adventures of artists meetings. This is probably a bit silly (or even presumptuous) but it makes me feel like Picasso, or Gertrude Stein, or any of the artists who used to hang out together in one of the many Parisian brasseries in the early 20th century.