It's been exactly a week since I started my adventure at the PX.
Adventure?
You're right. Maybe that is a bit too strong of a word.
Marathon…that's more what it felt like.
On Sunday morning I got in the car and exclaimed, "Here we go. The final stretch! Yes!"
Phil said, "I don't know why you torture yourself."
I said, "I don't torture myself. I challenge myself."
Frankly I don't know if there's a difference, but challenge sounds more rewarding than torture.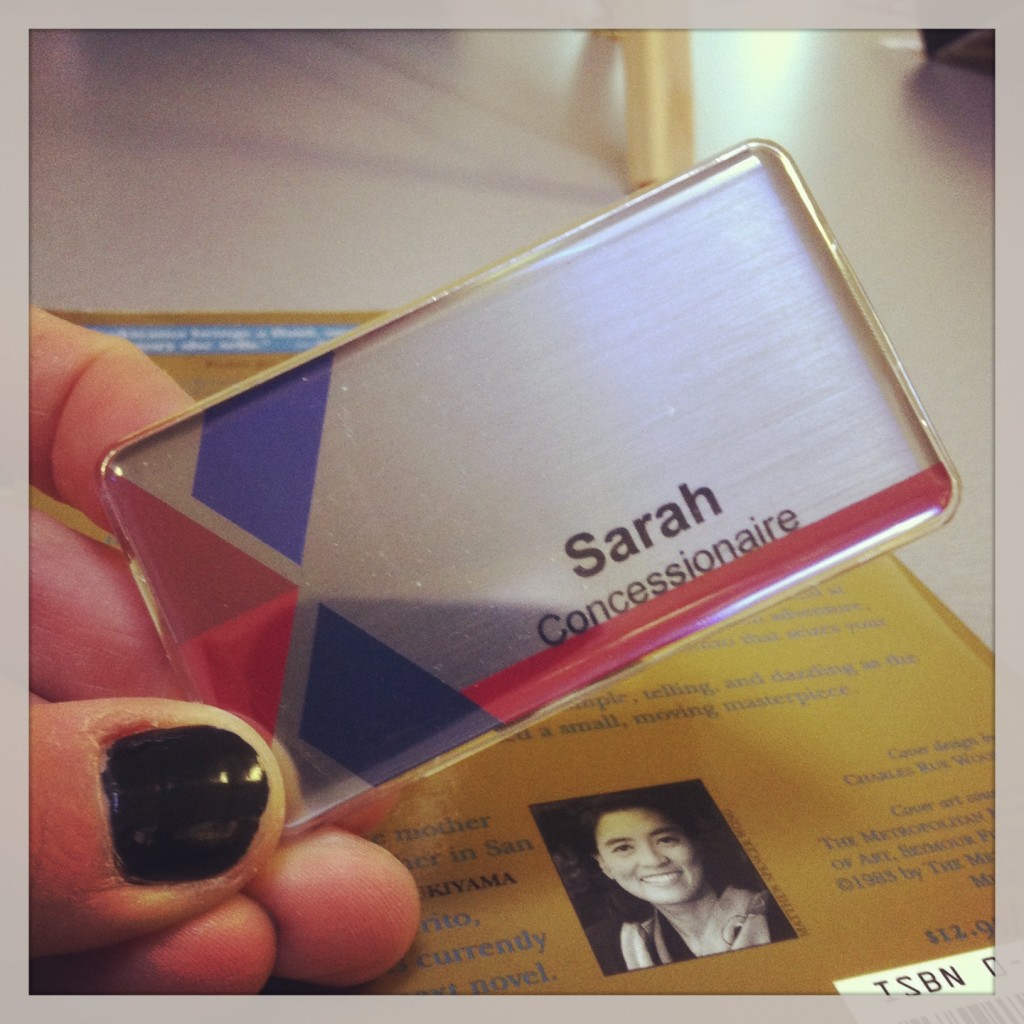 All totaled the week was a success, but I don't think I'm "vendor" material. I don't have the stamina. Of course I sold some scarves, but I also got to display my artwork for an entire week, sell some prints, sell some greeting cards, meet some new people, talk about myself (a lot) and my artwork (a lot), and experience what it is like to be part of the PX crew.
The behind-the-scenes of the PX was a highlight for me. I met the "important" AAFES people, like the regional managers and CEO. I managed to pick inspection week as my vending week. Thusly I was strongly encouraged to follow all (large and small) rules of vending; no jeans, no stickers, no handmade signs (as if!) and no eating or drinking. Let's just say that after seven days in this Army-only department store, I have enough material for the sequel to "Office Space". And I do have a few confessions; I totally ate and drank at my kiosk everyday, sometimes I forgot to check ID's; I had wet paint out everyday, some dripped on the floor, and (worst of all) Friday, Saturday, and Sunday I cut out early.
This past week reminded me what it's like to work and make work a responsibility. In a normal day I work, but I'm also at home. Very easily, the home can take precedent over work; meal preparations become more elaborate and I do chores slowly and thoroughly. Being away from home for 9 hours each day has made me more appreciative of my current lifestyle. This work-week I've been planning and cooking my meals an entire day early in an attempt to maintain my culinary status quo. That was, until Friday. (Here's the part of my story where you might want to break out the smallest violins in the world.) On Friday we had veggie burritos, but I didn't have time to make my own tortillas, soak and cook my own beans, or make my own fresh salsa in the Vitamix. This means that our tortillas came out of a package, our beans out of a can, and our salsa out of a jar. It was sad. Luckily Phil was home to rescue us on Saturday and he made pizza from scratch. It was rejuvenating. I think he did some laundry too; even if he won't admit it.
I have a new appreciation for the dual-income household. The logistics of sharing all of the responsibilities are tough. I can't even fathom how life works when you top the dual-income with kids, and pets, and extra curricular activities. God Bless the modern family.
Today, I let Phil take the car to work; no schedule-syncing necessary. I didn't need it. I mostly stayed home, and then ran my errands (happily) on my bike.
This week has also confirmed for me that I like selling at bazaars. People come to bazaars to shop artisanal products, and engage the artist. My studies at the PX have concluded that there aren't many people at the PX in the same mood. That being said, my horizons were expanded. I had quite a few customers that surprised me with what they did and didn't buy. This was my first time selling scarves and art at the same time, and no one bought scarves and art. It was one or the other.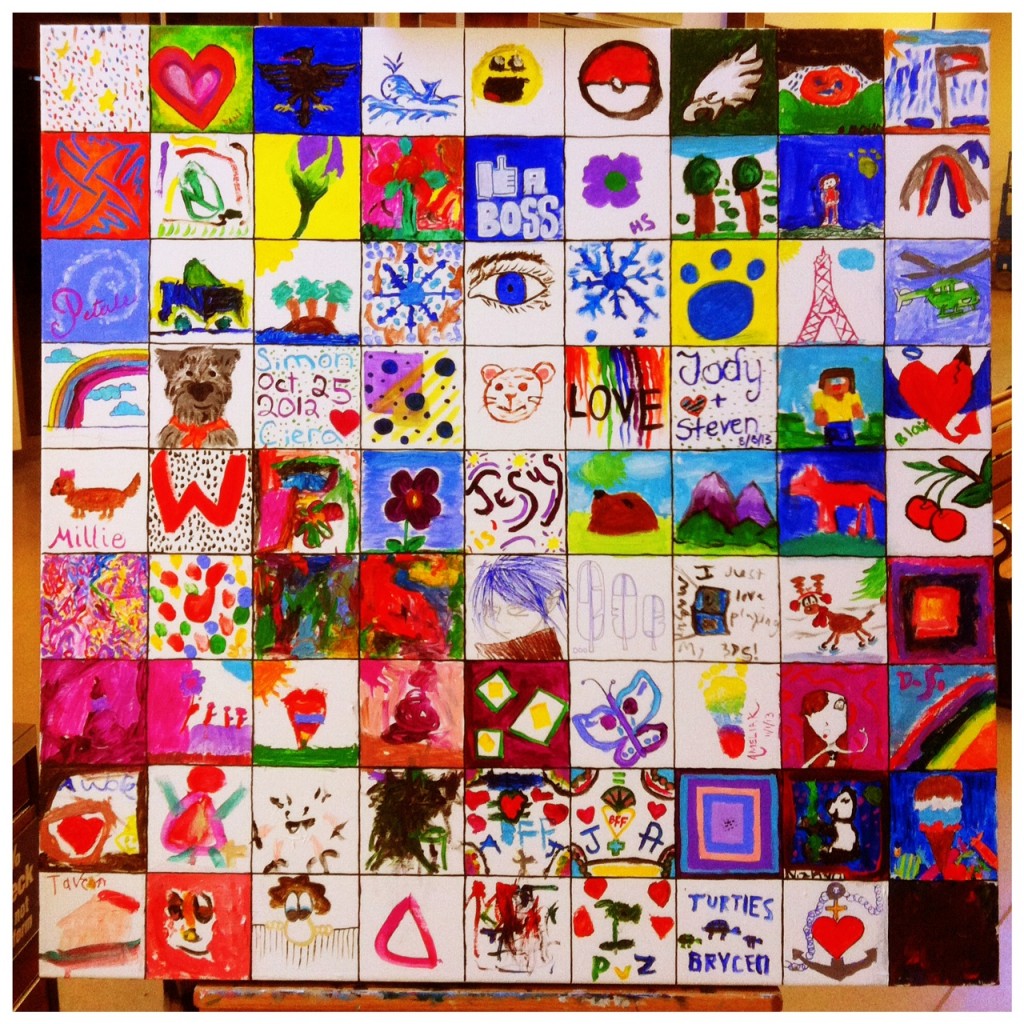 My greatest success of the week was the community painting project. I started with a large canvas that had 81 squares to color. The painting project was finished early Sunday. I drew the winner Sunday evening. From what I gather Ciera won; despite that fact that she wrote her boyfriend's name on the paper. I haven't given her the painting yet, but I will tomorrow. She wrote her boyfriend's name down on the entry form with her number. So I call asking for Simon to a phone that is his girlfriend's. Ciera and I worked the details out via text. I'm glad Ciera won. She was very enthusiastic about the project, but she has also proven to me that I do not understand the modern teenager.
In closing I would also like to say that I feel very fortunate for all of the visitors I got. You know who you are; whether or not you had a plan to go to the PX or Commissary you made it a priority to stop by and see me. I sincerely appreciate every visit I received. That's what friends are for.