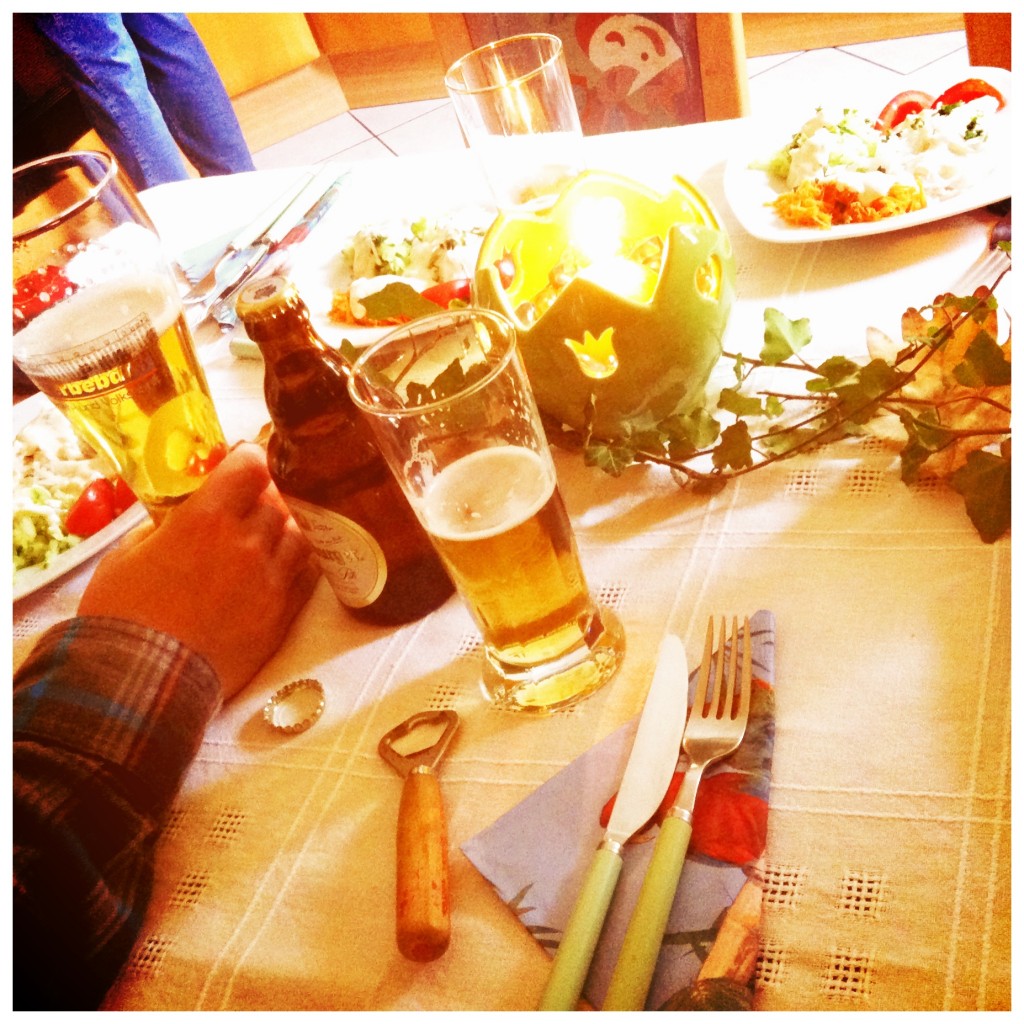 I love Stromboli. I love Cinnamon Rolls. I love Sushi. I love Curly Fries. I love Cabbage Rolls. I love Rolled Oats.
Rolling things up…just makes them better.
Germans are big on the Roulade. It's steak; stuffed and rolled. For my first German cooking lesson Katharina taught me how to make roulade, its sauce, and Semmel Knodel. (The Knodel is a German bread dumpling.) I am delighted to share with you, not only the recipe, but the afternoon that was my cooking lesson. (And when I say recipe I mean that in the loosest sense of the word.)
Germans, like any self-respecting European, eat their biggest meal of the day at lunch time. Basically, this means that you're going to wake up, have breakfast, and start cooking. If you're like Katharina, you'll sleep until 10:00 or 11:00, drink a cup of coffee, and start cooking. Our date was on a Sunday, and we planned on eating by 1:00 pm, so preparations were under way before noon. Actually, Katharina started before noon. Phil and I came over with beers at noon. Phil and Ludwig popped some tops and settled down in the living room with gun catalogs, fishing magazines, and some videos of flying. (For any of you that might know my husband and find this amusing/out of character, please keep in mind that with the language barrier the conversation themes are kept basic, i.e. hunting and soldiering.)
By the time I joined Katharina in the kitchen she had already soaked the mushrooms, chopped the herbs, pounded the beef, made broth, grated the bread, and was resting the Knodel mixture. I sort-of panicked. I thought to myself, "How am I going to make this perfectly if I have not witnessed all of the steps?"
The answer to that question would be that I would just wing-it, make it my own way, or look it up on the Internet. Nonetheless, I took notes on what she had already done, watched her as she worked, assisted with a few things, and continued taking notes to the best of my ability. I took some pictures too; only in the beginning though. I always forget to take pictures in the end. Sorry.
I will also apologize because this recipe has no real measurements. Katharina says it is a recipe that doesn't need measuring. You just work with what you have and do what you can remember. I think you will also notice that some of these steps will be easier to accomplish than others, based on your geographic region. Again, adjust (how you may) accordingly.
Step 1
Go to the butcher and tell them you want to make roulade for four people. Tell them you want large slices of beef that are pretty thick. You should leave the butcher with just over a kilo of meat; four slices that are 3/4" thick.
Step2
Go to the baker. Tell them you are making Semmel Knodel for four people. They will give you six or seven semmel rolls. You can ask the baker to grind the rolls for you. This will save you a step at home. Sometimes the butcher crushes yesterday's rolls and will have the ground bread ready for you.
Step 3
You're ready to really start cooking. You are going to use mushrooms. You'll probably buy them in a supermarket. Katharina uses the mushrooms Ludwig brings home from the woods. On this particular occasion we used a combination of dried black mushrooms and fresh Steinpilze. If you are using dried mushrooms remember to soak them ahead of time. If you are using fresh mushrooms, no worries.
Combine your Semmel (bread) grind in a bowl with three eggs and a bit of salt. Then pour in some hot milk. Only pour in enough milk so that your mixture is thick, lumpy, and sticky. I would error on the drier side since you can always add more liquid later. You must let this mixture sit for at least 30 minutes.
Side Note: You can add whatever the heck you want to a Knodel. Leave it naked as we have here or dress it with herbs, minced veggies, spinach, bacon, cheese…go nuts.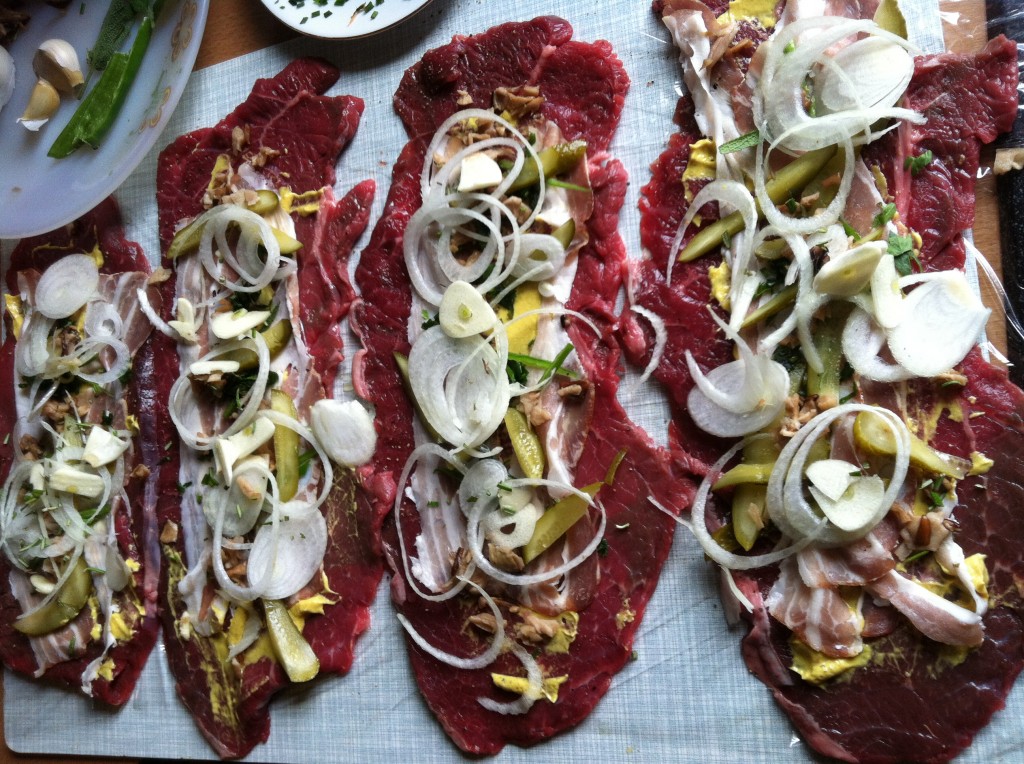 Step 4
While the Knodel is setting you can prepare your roulades. Pound your beef, but not too thin. Spread a thin layer of mustard on the beef. Place a layer of uncooked bacon over the mustard. At this point you can layer on/in whatever you'd like. For my viewing pleasure Katharina layered sliced pickles, onion, mushrooms, garlic, chives, sage, and salt and pepper. Once your beef is layered nicely you roll it up and secure it with a pin. (or toothpick)
Step 5
Your Roulades are ready to go. If you've got a dutch oven, or an oven-safe pan, use it. If not, you are going to use a pan and then transfer to a roasting pan. Turn your oven on to 350°F. On the stove, high-heat a bit of oil, or butter, in a pan. Use a pan with sides; oil and grease may splash. Sear your roulades on all sides in this pan. Once the roulades are browned, add to the pot more fresh herbs, more mushrooms, wine (or beer or champagne…optional) and broth. Use whatever kind of broth you'd like; I'd say about 3 cups. Katharina also throws stale crusts from dark bread into the mixture. She says its a trick her mother used to use to thicken the gravy. The bread will basically disintegrate into the sauce, in lieu of flour or cornstarch. Put the top on this mixture and set it in your oven to slowly cook for two hours-ish. You basically guess when it's done. If you've timed it right the meat will melt in your mouth. If you're early the meat will be chewy. If you're late the meat will be a bit flaky and require extra gravy. In any of these stages your guests will enjoy it provided they have been drinking beer or wine while they've waited.
Step 6
You need to cook your Semmel Knodel while the Roulades are finishing up. Prepare a deep pot of salted water. The pot should be large enough, and have enough water, to fit all of your Knodels at the same time. Get a small (cereal) bowl and fill it with water. Dip your hands in this bowl to wet them. Grab a handful of the Knodel dough and beat/roll it into a ball. The ball should be the size of a baseball. Continue this process until you have 7-8 baseballs. Boil the pot of water. The Knodels will take 20-25 minutes to cook. Try to be savy about your timing and drop the dough balls into the boiling water with 15 minutes left to the cooking time of your roulades. When the Semmel Knodels are done scoop them out of the pot with a slotted spoon and plate them. Katharina plates one and leaves the other in a warm dish for seconds.
Step 7
By this time your Roulade should be done cooking and your Knodels should need ten more minutes of cooking time. With a slotted spoon remove the Roulades from the dish they have been cooking in. Plate them or put them in a warm side dish. At this time you will make your gravy. Put the roulade-liquid pot on the stove on medium-low heat. Slowly simmer the liquid after adding about ½ cup crème fraisch and a tablespoon (or two) of heavy cream. You should be happy with the gravy's consistency after 5 minutes. If you are not, you can serve it thin or add a thickening agent. (Either will suffice. Your guests love you and are delighted for your cooking.)
Step 8
Call everyone into the kitchen. You should already have the table set with tablecloth, napkins, candles, fresh ivy that you cut from the side of the house, Preiselbeeren preserves (or cranberry), mustard, any other condiment your guests might enjoy, cutlery, glassware, and a small salad. With every German meal I have ever eaten we also eat a salad. Generally it consists of pickled vegetables over delicate greens, but you can serve whatever you like.
Make certain all of your guests have a drink.
You already have the plates featuring a roulade and a knodel. Top the dish with gravy and serve. Bring the rest of the food and gravy to the table. Everyone will want more.
Step 9
Your meal will be so fabulous that there will not be much talking while eating. Conversation will resume to its normal pace once everyone is full. This is the time to clear the table, and get out the cordial and chocolates.
Katharina and Ludwig like to serve a liquor that I have never seen, that has a name I can not pronounce. It is something similar to Jaegermeister, in that it is a liquor made from a medley of herbs, but it tastes much better. You can only get this liquor in certain regions of east Germany. It isn't terribly strong, but it is warm and is drank as a digestive aid. Along with savoring the cordial, you eat chocolate. Katharina served a chocolate from Kazakstan. It's a delicacy that can not be bought outside of Kazakstan. Katharina's favorite taxi driver brought her some as a gift recently. The taxi driver's father had visited and brought some for him. Sometimes Ludwig gives the taxi driver Steinpilze, so the driver likes to return the favor.
Step 10
At this point you will have to kick your guests out. They will be exhausted from attempting to function in a different language all afternoon. In the first few hours they were full of energy, but now they are saturated and the conversation has turned to politics. We all know when a dinner party turns into a world politics discussion it is time for everyone to go their separate way.