I knew I was in Germany, but I felt like I was in Heaven. I had driven two hours to attend my first Fabric Market. (Well, more like one and a half hours of driving and thirty minutes of parking) The Fabric Market is a group of traveling Europeans that sell sewing material and acessories straight from the manufacturer. At some stalls you can find great deals. Other stalls carry rare finds. Like it's cousins, the Farmer's Market and the Flea Market, the Fabric Market is a wonderland for the enthusiast. Me, my oversized but empty shopping bags, and the cash burning a hole in my wallet were excited to be supply shopping for Florida Scarf somewhere other than the Internet. The market was bigger and a bit more hectic than I had anticipated. As I began shopping I found myself becoming intimidated. I saw lots of shoppers with lists. I love lists. Why hadn't I written a list? I could feel myself growing frustrated and indecisive. Luckily, I spotted some fabric that I loved. I was drawn to it, willing to wait in the herd for it to be cut for me, and I didn't care how much it cost. It was reasonably priced and the vendor was friendly. I registered the interaction as a victory and allowed it to grease my wheels and keep them turning for the rest of the afternoon. I had developed a managable speed of process for the execution of my mission. I left the market knowing I had accomplished my goal and earned a fresh start in Texas.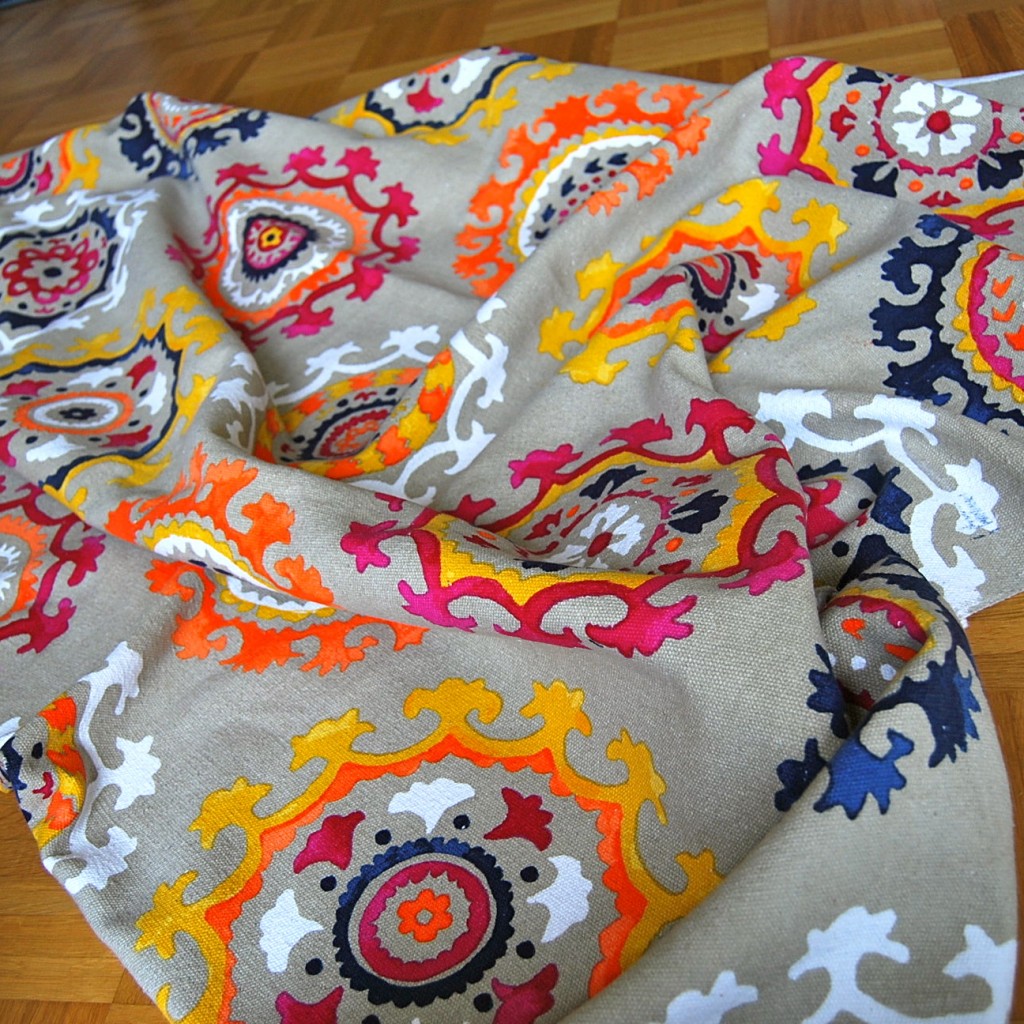 This is my absolute favorite fabric. My impulses convinced me that there was no way I could have left the market without it. Sheepishly, I have to admit that it is not even for Florida Scarf. It is for me…and Phil. Luckily Phil liked it. I don't know what it's called, or the name of the manufacturer, or the process by which it's made. In purchasing it I merely satisfied the burning lust that one gets when shopping. I am only human.
It's a heavyweight cotton canvas. It has the appearance of being handstamp dyed. I'm sure it's done on a machine, but I'm hoping the machine is somewhere exotic like Thailand and the workers get paid a decent salary. Aside from the print I was also drawn to the fabric because of the way it smelled. Like dirt. Not like cilantro, or patchoulli dirt; but like a papermill dirt smell. I think it must be the dye that was used. I have visions of using this fabric in my new home. I have two new (but used) rocking chairs meeting me in El Paso. I think it would be fabulous to make all three of my rocking chairs matching cushions with this, and maybe a floor covering to match.
This was my purchase that broke the ice. I have an affinity for things of the Latin American kind. Last season I bought some fabric online from Sweet Llama Supplies. They are based in the Andes. The colors and patterns in the material I bought from them were fabulous. Customers thought so too. I sold those scarves as quickly as I could make them. I was pleased at the opportunity to refill my inventory of South American textiles. If this was a theme that sold well in Germany, I can only dream of how well it will sell in the Southwest.
Wool fabrics and wool blends were abounding in the aisles of the market. I was a bit hesitant to buy any of them. I know they are popular and useful here in Germany, but I doubted it would be the same in Texas where it's much warmer and doesn't drizzle so often. The designs on the string-felted wool were quite appealing however, and despite having lived here for three years it's a style I haven't yet worked with. The internal battle inside of me ended with the purchase of this quintessential fabric. What finally tipped the scale was that I knew if I bought a couple of yards I could cut it in half and mail some to my mom. (who I think could transition to a life as a German Tree Hugger quite easily) In this photo you can also see my mock-Pendelton print fleece. It was a steal…or as we say in German preiswert.
These next two fabrics are designer Japanese fabrics. Do you know what that means? It means they are trendy, hip, gorgeous to touch, and expensive. Since 2007, the cost of these fabrics is more than I have ever been willing to pay. I fear that I may have just set a new precedent for myself, like when I bought Swarovski crystal buttons or the rabbit fur. But every good scarf sewing supply room needs variety. The fabric company is called Echino and the designer is Etsuko Furuya.
The helicopter in the pattern is known as the Huey. It's the helicopter you always see in Vietnam war movies. It doesn't see any action these days. It has been replaced by models like the Black Hawk. The Huey is what pilots flew back in the day when soldiers acted like cowboys. That makes this print totally retro.
If you read my blog post last weekend about the patron saint of hunters, it will come as no surprise to you that I purchased this print. I had a great night with Ludwig and the hunting club. The activity gave me a knew knowledge of hunters, their motives, and their spirituality.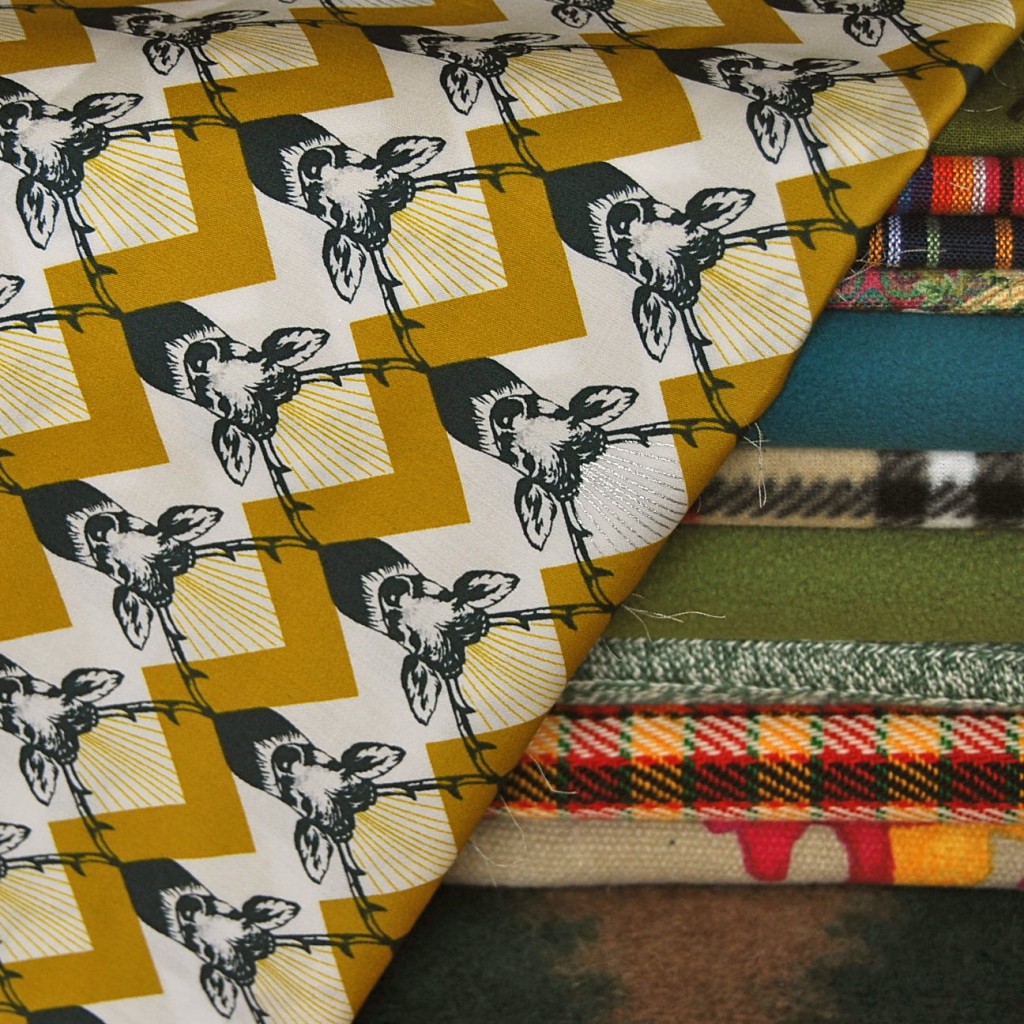 Having Florida Scarf, and making my funky scarves and hoods, has given me many opportunities to develop as an artist and further my knowledge of the world and its resources. I know I am just one girl that sews, doing what lots of girls do that sew. But at the market I couldn't help but daydream that I was doing something more exotic, more triumphant, being surrounded by merchants offering wares from around the globe. I can only hope that those characteristics (and daydreams) translate when I make my products.
I'd love your thoughts or opinions about what I purchased on my recent supply search.
Do you love it? Do you hate it?
Do you want to stake a claim to anything now? It's never to early to order.
Thanks for reading.