The holiday season has begun. Whether you claim to love it or hate it, you have to admit that it is an exciting time at the very least. I love it. This year I kicked off my holiday season with a Destination-Family-Thanksgiving. The celebration was with my husband's side of the family. Two of Phil's sisters live in Denver, so the rest of us traveled there and we got a house in Golden, Colorado. All of the other family members hopped on a plane and zipped on over to Denver in a reasonable amount of time. Not me. The duration of the trip was just shy of two weeks. A mother of two, two-year olds needs a ridiculous amount of equipment to do her job; so I opted to drive. Lila and Nina do well in the car, and I do my best to make it fun for them. I enjoy driving through the southwest. The mountains and desert are a beautiful combination. The added bonus of driving was that we got to experience not only Denver and Golden, Colorado, but also Las Vegas and Santa Fe, New Mexico.
Like most destinations in New Mexico, Las Vegas is a small town. We stayed at the Plaza Hotel, which stands at the corner of the Old Town Plaza. It was built in 1882, restored 100 years later, and has a long list of who's-who that have stayed there, to include Doc Holliday, Tommy Lee Jones, Michelle Obama, and Lou Diamond Phillips. The Plaza Hotel has also been a set for movies like Easy Rider and No Country for Old Men. The hotel looks just like it did when it was built. Nina and Lila have never stayed in anything so classic. They enjoyed marching up and down the wide matching walnut staircases in their cowgirl boots.
Las Vegas, New Mexico, is the original Las Vegas, established in 1835, as a stop on the Santa Fe Trail. The railroad came in 1880, and after that the outlaws and gangsters followed. Currently the population is around 14,500. Interestingly, the city's population has remained relatively constant since the early days. What was once a metropolis is now a quiet town with a unique history.
While we were in Denver we stayed at Aunt Meggy's house. Aunt Meg and Uncle Dane just recently had a baby. Lila and Nina acted in typical toddler fashion for the duration of our stay, demonstrating for the new parents what to expect in their near future. The highlight of Denver for the girls was our trip to the nearby Goodwill. They got a couple of new baby dolls, ponies, magazines in Spanish, and a princess Christmas book.
Golden, Colorado was a picturesque home for our family holiday. Literally, the landscape is gold. The weather during our stay was mild, creating a perfect opportunity to enjoy the many hiking trails in the area. One morning we visited the museum and grave of William F. "Buffalo Bill" Cody. There are nice views of the surrounding area from the site, and the museum offers interesting and amusing information about the life of the man. Nina and Lila most enjoyed the taxidermy the museum had to offer, claiming they really wanted to ride the buffalo. With more time in Golden I would have also loved to tour the Coors brewery, and visit the Pioneer museum and Train yard museum which offers Polar Express reenactments through the holiday season. Unfortunately, even a week just isn't enough time to fit in all the tourist traps and spend enough time with the ones you love.
Our time in Santa Fe, New Mexico, was brief, but we still enjoyed the town. Santa Fe has a wonderful downtown area. The shopping is quite tempting for anyone with even the slightest notion for Southwest style. Native American, Mexican, turquoise, chili peppers, fringe, and pottery; I don't think I could ever get enough. Like the shopping, the same could be said for the food in Santa Fe. We were lucky enough to (use Yelp to) find a delicious restaurant off the beaten path. It was called the Tune-Up Café. It's one of those spots you get excited when you see because it has so many outdoor lights hanging around its patio. A small restaurant with a tiny open kitchen, it serves extremely fresh Southwest specialties. Nina and Lila loved the guacamole and pico de gallo with warm homemade chips. It was more than obvious that everybody in the restaurant knew one another, but that didn't stop the tables near us from making small-talk with us too. It was the perfect entertainment after a long day in the car.
The city of Santa Fe was founded by Spanish colonists in 1610. It is the oldest city in the state of New Mexico and the oldest capital city in the U.S. After the city was passed-up by the railroad local leaders began promoting the city as a tourist attraction. The city sponsored architectural restoration projects and erected new buildings according to traditional techniques and styles, thus creating the Santa Fe style. One of these leaders also began the Southwest Indian Fair in 1922. This fair still goes on today, although now it is known as the Santa Fe Indian Market. It's held annually the weekend following the third Thursday in August. It is an attractive event, and one of these years I plan on attending.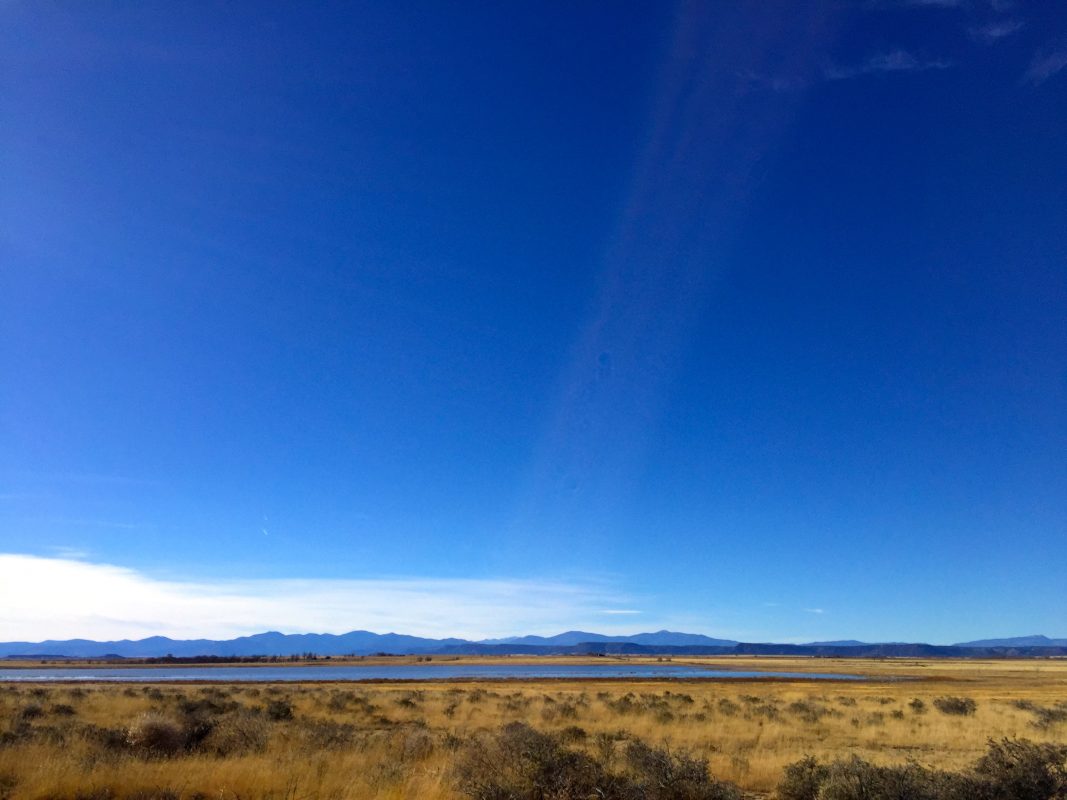 It's great to meander through this vast and varied nation of ours, but it's great to be back home too. Lila, Nina, and I don't have any travel plans for Christmas. And it's a good thing too. We've got a long list of holiday crafts and activities to complete before the big day. We'll be making a Christmas tree, learning songs, baking cookies, making cards, and hoping we see snow flurries at least once. I hope you and your families have a long list of good things for this fun time of year too.