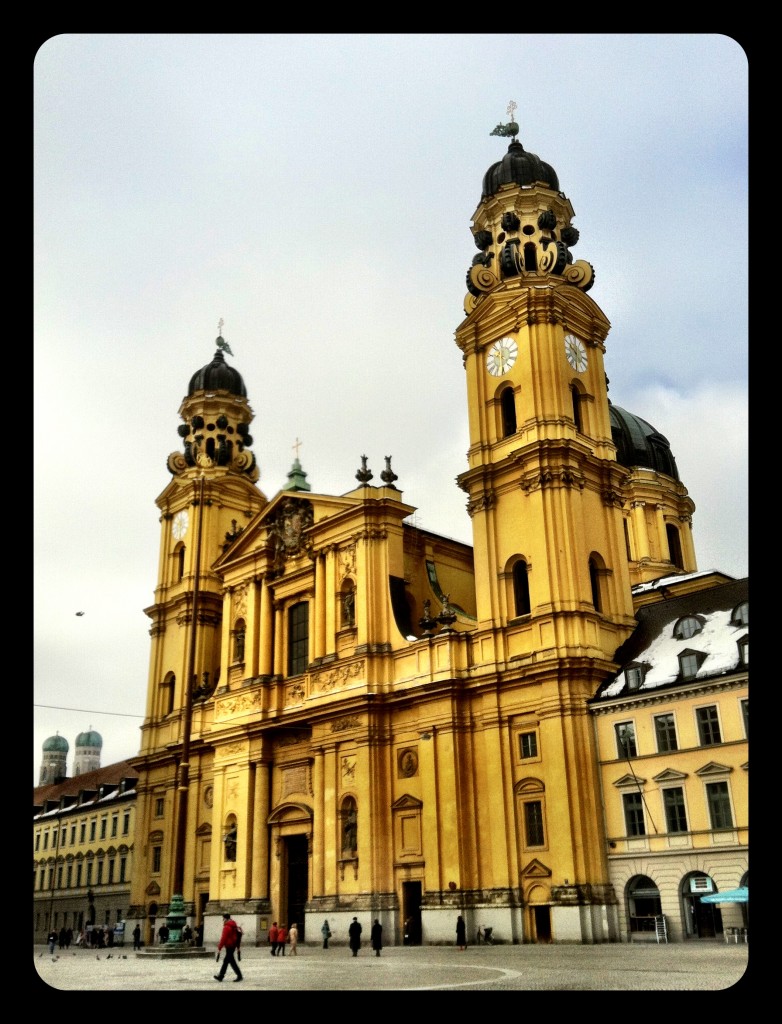 On this Sunday evening I reflect; and say that the weekend has been another successful adventure. It's been the biggest weekend out of town I've had in a while. It's been the best time I've had in Munich since my Oktoberfest-flop. Phil and I rode the train, slept over, did some sightseeing, enjoyed a rockin' concert, and ate some fun food. Basically, we went to Munich and did all the things I absolutely love to do.
I fancy myself a confident and comfortable rider of public transportation. I can make a plan and follow it, but this accomplishment never arrives without some minor complications, delays, and requiring a bit more savvy than one would assume. On this trip, to-and-fro, I was reminded that public transportation is not for the faint of heart. Luckily, once on the train, one has plenty of time to recuperate and sneak in a nap. In addition to taking the train to Munich, we took trains through Munich. I was relieved at how easy it was to navigate the underground. There are maps everywhere. Whether on a train or on foot; it is impossible to get lost in Munich.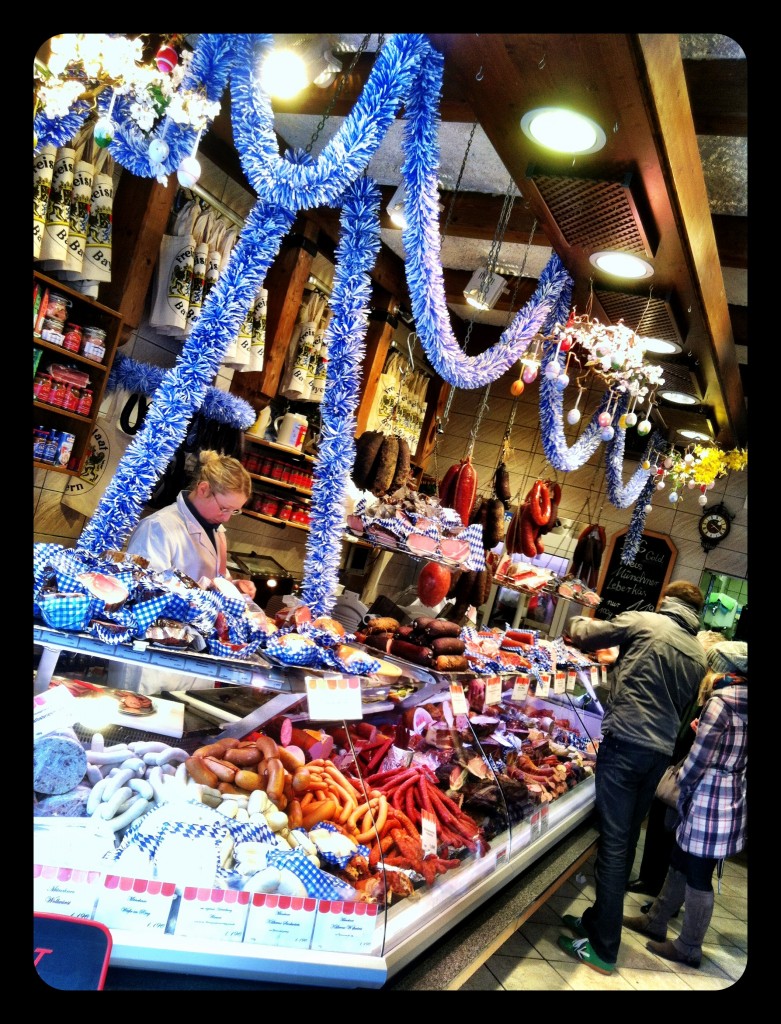 Once in the center of town we visited the Viktualienmarkt. It is a huge outdoor market that operates daily. It is the perfect place in Munich to go to taste some of the more popular German delights. There is a beer garden in the middle of the Viktualienmarkt. On a nice sunny day it's a great place to grab some food at a stall, grab a huge beer, and indulge. This was Plan A for Phil and I, but by the time we got to the market it was no longer sunny and we decided not to eat outside. Plan B was to go to the Beer and Oktoberfest Museum. In addition to being a museum devoted to the history of beer drinking in Munich, they have a cellar restaurant. We were pretty hungry so we went immediately to the restaurant. I love the atmosphere in these cozy cellar establishments. You might initially feel like you are in a dungeon, because there are no windows and plenty of wood beams and brick. The thing about it is, the lighting is always dreamy, it is incredibly warm, and there are bundles of people relaxing, drinking beer, and quietly enjoying one another's company. We had a couple of large, dark beers and used them to wash down a traditional meal. Phil had Regensburg Sausage (Regensburg is another awesome city in Germany I have yet to visit.) and German potato salad. I had beef goulash in a lovely, thick, dark beer sauce with dumplings. Lunch was great; we shared everything. We delighted in the flavors as well as the appearance of our food. They were served on iron plates on old wooden trays. With all of the lunch (and beer) coursing through our system; we really had no energy for a museum. As much as it pains me to admit we were ready to find the hotel and nap. This type of behavior is extremely out of character for me. I love museums (and learning) and do not like sleeping. Phil is the complete opposite; and since he's been home (for not so long) I've been trying to embrace his lifestyle.
I will now use this stage to declare my love for Marriott hotels. Among all the other details I find so fabulous about their accommodations; their beds are the best. After the shortest nap ever we got ready for our evening. Our plan was to eat pizza and go to a concert at the Muffathalle. The concert venue wasn't too far from our hotel so we decided to walk. It was a nice evening and Phil thought he might like an espresso before dinner. Not one to turn down espresso myself; I helped him hone in on a cute Italian bistro down the street from our hotel. As is typical European style; we had double espressos en plein air. (a.k.a. under blankets.) After coffee we headed to an Italian restaurant I found online. We showed up only to have the restaurant be closed for a special event that evening. Dumb luck, right? The funny thing was that there was another Italian pizza place right down the street. We were saved. I'm actually wondering if we were in some kind of Italian district. It would sound like it by my description, no? We ate at La Baia, our second charming restaurant of the day. Aside from charm, La Baia didn't have much else in common with the museum restaurant. It had a brick oven, waiters in bistro aprons, gingham tablecloths, napkins folded like seashells, walls decorated with photos of old Hollywood stars and overweight men shoveling pasta in their mouths, and an impressive pizza menu. Perfect. Phil can put back some food, and so can I for that matter, so we each ordered our own pizzas. When the waiter brought them to the table it was clear we had gotten ourselves in over our heads. They were served on plates with a 12" diameter and the pizza was (absolutely) reaching well beyond this limit. It was the best pizza I've had in Europe yet; and I'm not just saying that because of its impressive size. It was dough rolled out to a perfectly thin thickness and topped with a perfectly complementary amount of sauce and cheese. While relishing in this heavenly state of dining I was reminded of days of my youth spent at the Jersey Shore. Then it dawned on me. This pizza tasted exactly like boardwalk pizza! If you're familiar with the shore you know what I'm talking about; if not I apologize. Literally the pizza brought me right back to Mack &Manco's in Ocean City, New Jersey. How, on earth, is that possible in the middle of Munich? I have to say, the night only got better from there.The concert was amazing. Definitely the third best concert I've ever been to; my first and second being Jane's Addiction and Jay-Z, respectively. Last night we saw The Lumineers, and the opening band was Langhorne Slim and The Law. It was one of the few times I can remember enjoying both acts equally. Each band sounded better live than they do on their albums; which is how music should be. (but often isn't) Before I get into overly dramatic descriptions about how much I loved the bands and their performances, I've got to tell you about one of the funniest details to the evening. The concert ticket said that the show would start at 7:30. Phil and I are punctual, so of course we were there right on time. The concert had already started. When have you ever heard of a concert starting early? I fancy myself a live music veteran and I've never seen a show start early. Only in Germany would that happen I think, but no matter. The entertainment that followed more than made up for the premature beginning. Langhorne Slim, and his band, had so much soul. His voice was powerful and the band was cool. Once their set was just about finished The Lumineers came out on stage and they played a song together. For the last 5-10 minutes of their set there was a party on stage; singing, clapping, dancing, jamming, instruments everywhere, and jumping. It was as inspirational as a soul revival. I couldn't not move my feet. There was a brief intermission and then the Lumineers came on. They were such a sweet, soulful, endearing, youthful band. They weren't pretentious. They were aware of themselves, aware of the audience, and intent on bringing themselves as close to us as possible. The lead singer claimed that we were the best crowd they'd had in Germany yet. This did not come as a surprise to me; as we were quite lively, dancing and singing along. I've heard this is quite a-typical of a German crowd though; which is known more for its stoicism.If you're familiar at all with the Lumineers you know their Ho-Hey song. If you know the song you may know the video, which artfully displays the band performing the song in the center of an excited crowd. This is exactly what they did during the concert. They stopped the show, grabbed their instruments, and came down right in the middle of the crowd. They played the instruments and we all sang along. It was incredibly fun; no wires, no speakers, just voices, clapping, and acoustics. In creating this intimate song performance, I think the band truly demonstrated their appreciation for the crowd. I felt like we all became very close.After this circle jam the band went back up on stage and carried on by the electric current they had created in the crowd. The energy in the house was awesome; a perfect complement to the intensity of the band's beautiful and interesting assortment of instruments. Of particular note was a huge, old piano. (again, you'd recognize it from their video.) Curiosity led us to question how on earth one tours and totes around an old, probably fragile, piano. I guess when it holds such meaning for the band, and sets the mood on stage; the band will do what they have to to make sure it is there. During a few parts of the concert one of the band members even used the top of the piano as his own personal dance floor. In addition to playing all of their own songs the band also did a few covers. For the finale Langhorne Slim came back out with his band and the 10 musicians joined together for a rendition of American Music by The Violent Femmes. It was rad. I danced the entire night and sang almost as much. I couldn't help but continue to sing the entire way home; much to Phil's dismay as I do not have the perfect singing voice.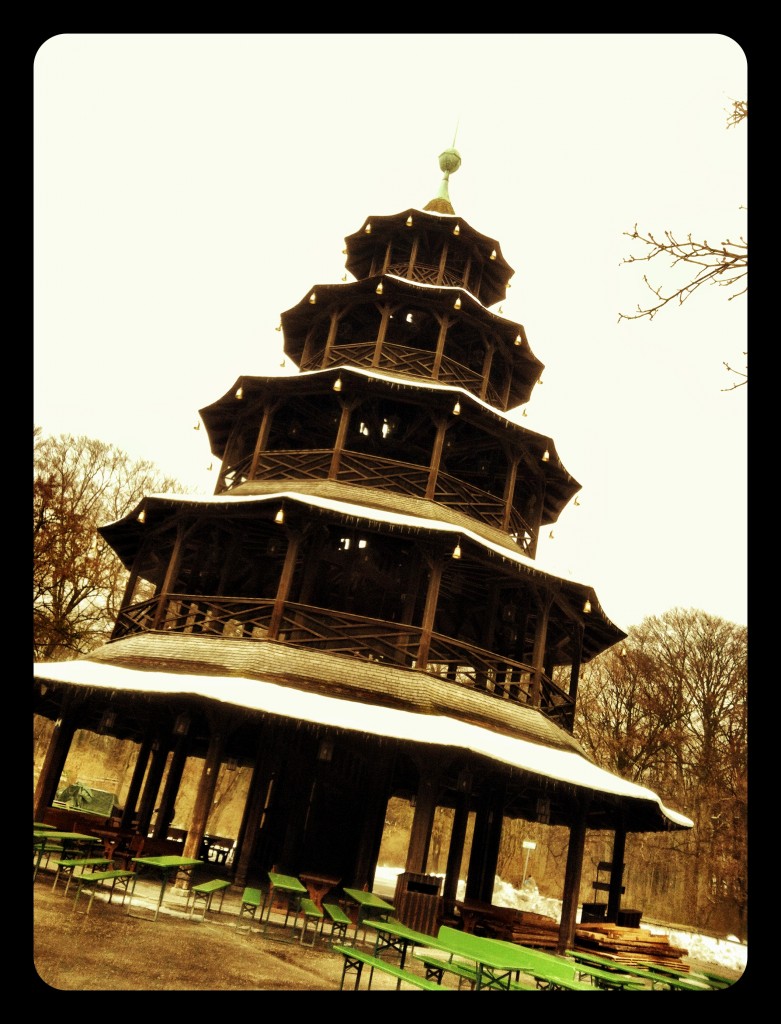 If you know me, the next thing I am about to say might come as another shock. I love eating breakfast at train stations. This morning was no different. Think about it. Everyone is friendly, the pastries are fresh, and the coffee is always the best. I started my day right; with a huge muffin and a dark,strong coffee served by an extremely friendly man. After breakfast Phil and I spent more time trekking around Munich. Our first stop was at the English Garden. It the oldest public park in the world, but this is only one of the reasons that it is so popular. The other reasons are that it has a traditional tea house, Chinese pagoda and beer garden, nude sunbathing, (not in March) and a stationary surfing wave in part of it's river. We (obviously) ventured into the park to see the stationary wave. We're pretty sure we found the wave after less than 30 minutes of hiking around to find it. There was no one surfing it on this brisk Sunday morning so it was a hard fact to confirm.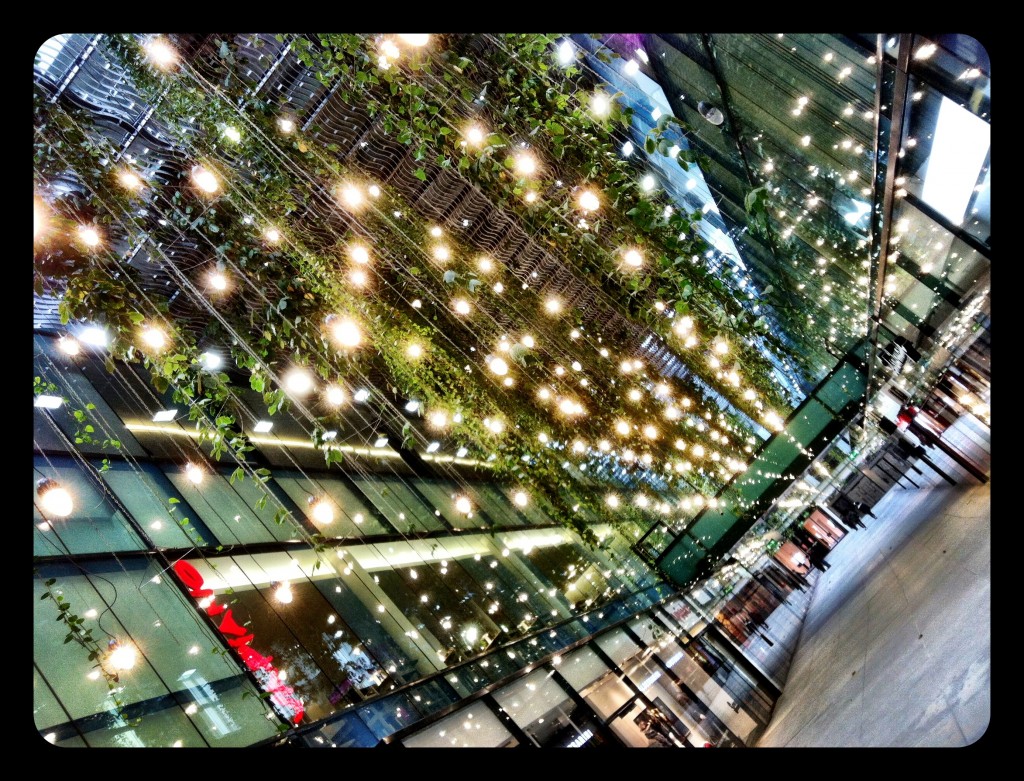 Once we were out of the park we continued our tour tour on Maximillian St. Oh man! Is that street abounding with high-end retail! I'd say it was the Rodeo, or 5th Avenue,of Munich. It was unbelievably impressive. This was again, another time I was glad it was Sunday, since all one can do is window shop when the stores are closed. After Maximillian St. we hit up Ludwig Street; similarly impressive but for completely different reasons. On Ludwig St. we took in visions of antique structures, important buildings, gardens, and sculptures. It was definitely a feast for the sense. You can just walk the entire city, never going into any museums or buildings, and still be awed by the history and grandeur. I was satisfied just to be near all of the attractions. We finished off the trip back at the main train station in Munich. I think it gives the impression of an airport. The best part about it is the food court. (Again, I know that's sounds weird coming from me.) We had lunch before boarding the top level of a doubledecker train. Döners. What else would we eat?