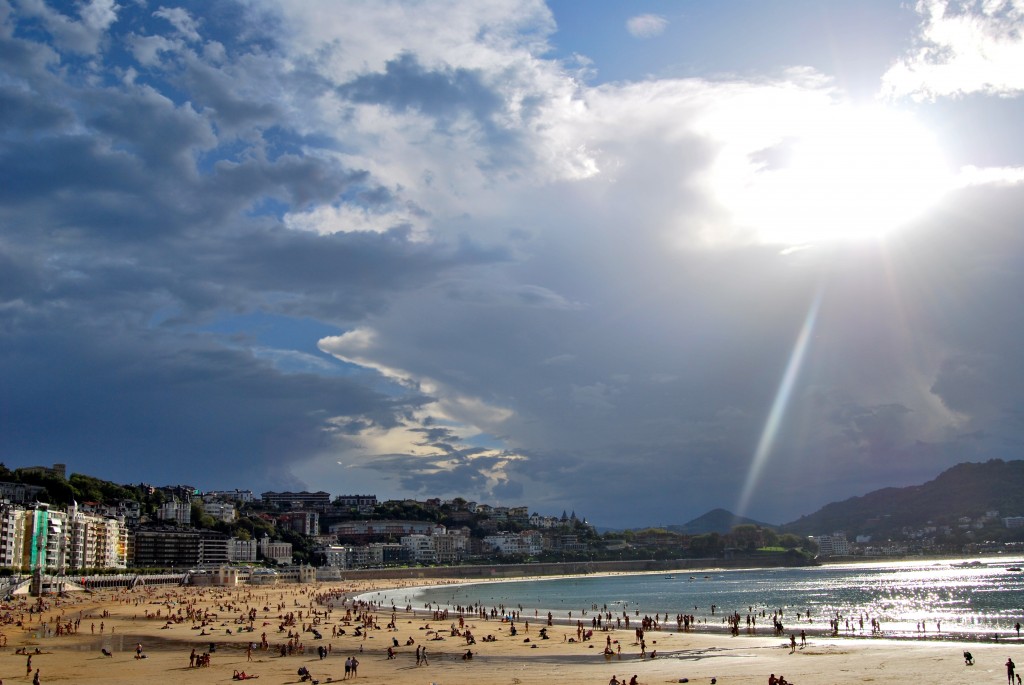 BASQUE COUNTRY
Tuesday was the first installation of my 2-part compendium about having recently experienced the Basque Country. We spent our time in Bilbao and San Sebastian. Below lies the wrap-up that was San Sebastion. Click the link above if you have not read about Bilbao.
SAN SEBASTIAN
It appears, to Phil and I, that each of our vacations (excursions, get-aways, whatever we may want to label them) continue to get better, and better. As we ponder why?, all that we can be certain has changed is our attitude. We've relaxed more. We come to the new land with a better education of it, better preparation, and we carry less expectations. We try to remain open and let the days unfold as they may; enjoying what we can and forgetting what we can't. In fact, the better we get at enjoy our journeys; the better we get at enjoying real-life too; by applying the same practices. Nothing is perfect, and as much as you plan and prepare you can never escape all obstacles. Behind every good storm is the sun.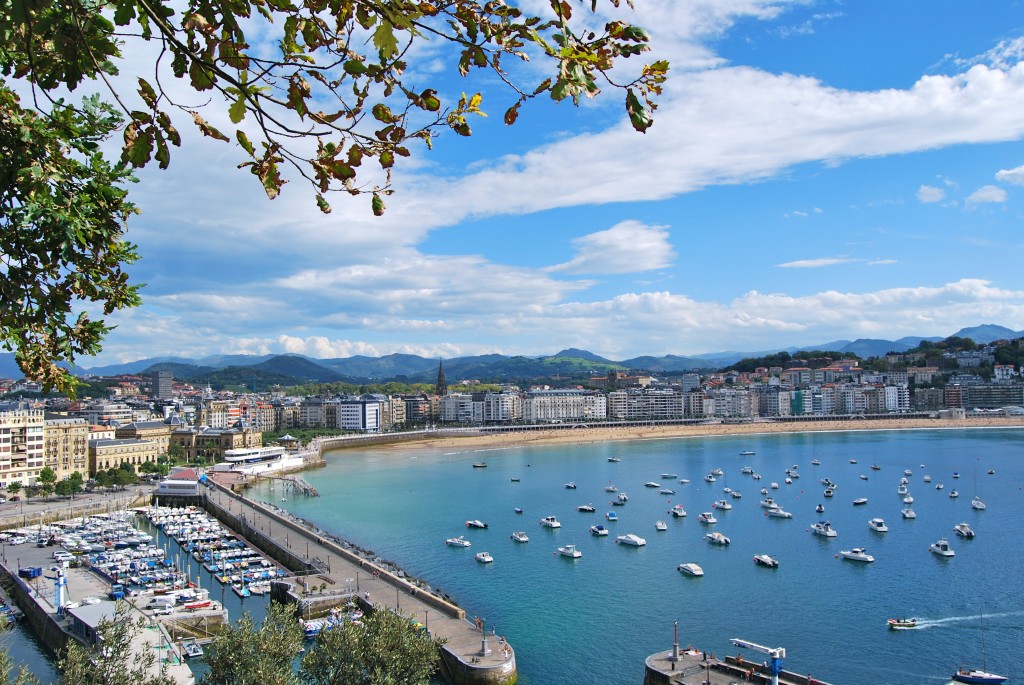 I'd never heard of San Sebastian (which means absolutely nothing) until a couple of months ago when I was planning our second European surf trip. (The first trip was almost an epic failure that included absolutely no surfing.) Surfing aside, San Sebastian is a wonderful city on the coast, perfect for wandering up and down streets of hip neighborhoods, along cobbled paths, and up trails through its unique coastline with hills and beautiful historical (as well as natural) elements. It's an entertaining spot to sunbathe, and an even more entertaining city for eating.
Our apartment was on La Concha Beach. Finding it was easy enough, but the rest of settling into the apartment was not such smooth sailing. We had our fair share of trouble from the parking garage, to finding an open grocery store, to the tricky coffee maker, to lumpy beds, and to a washing machine that wouldn't drain. I got the hair dryer to work alright, but I was afraid to try to run the dishwasher. We booked an apartment to make life easier, but initially it seemed anything but. At the end of the first day in San Sebastian, when we had fought and triumphed, we settled in to sleep in a quite room, with a nice breeze, and were thankful not to be in a pension over the noisy part of town in Bilbao. (which, despite the noise we loved.)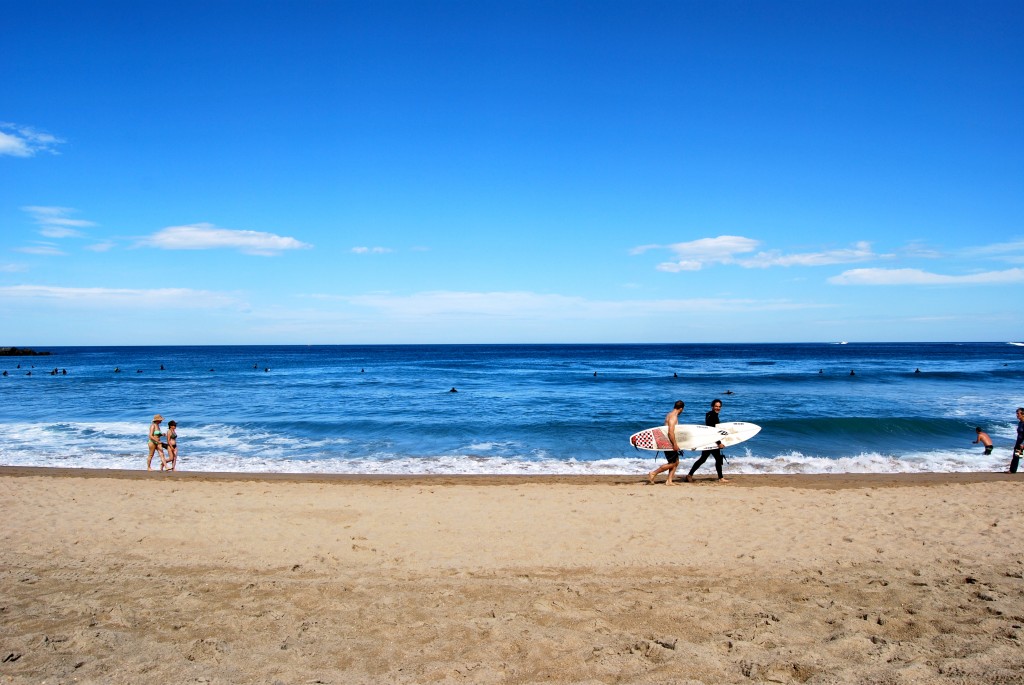 We surfed. Phil surfed Zurriola beach and I sunbathed and read my first western novel on Zurriola beach. I've been in the water enough times with a surfboard that if I claimed to surf it would be legitimate. The fact is, though, surfing intimidates me. It's not the power of the waves, it's not my inability to read the water, it's not the crowd of surfers in the water, it's not my lack of etiquette, it isn't that paddling is exhausting, it's not that the fins on the bottom of a surfboard cut like a knife. It's all of those things combined. Yes. There have been times that I have gone surfing and really felt confident and enjoyed it. This was not one of those times. The waves at Zurriola went from invisible, to ferocious, and back down to extremely large. Not easy conditions for a 'fraidy cat. The day the waves were at their largest, they were rolling in at 5'-10' and after the break their white water was measuring two stories high. (by my calculations.) The waves were so large that sometimes they would break twice! It didn't stop hundreds of surfers, kayakers, SUP-ers, and body boarders from enjoying the ride. Phil included. But I hung my surfboard up after a whopping 30 minutes. I settled on to my beach towel with Reilly's Luck (an entertaining western novel by author Louis L'amour) next to the group of topless, super-brown 70-somethings. And I was glad that I had decided not to pressure myself to do something I really didn't want to do. It's easy to wear Volcom t-shirts, read entertaining books by authors who have triumphed over learning-to-surf, and watch surf videos to get stoked on the sport. It is fully another thing (for me anyway) to do it. I've never been one to read (or watch for that matter) westerns, but this book was welcomed respite from my solo-ness on the sand because of the decision I had to make.
When Phil wasn't surfing we did a bit of exploring. The landscape of San Sebastian is really quite unique. To the east is the cove of Zurriola beach, where the surfing goes down. Across the Urumea river is the Parte Viejo. (old town) Rising above the Old Town is Monte Urgull. It is there that, if you hike to the top, you will find a statue of Christ and the Castillo de Santa Cruz with its great views and old cannons. Directly west of the Parte Viejo is La Concha beach. An island lies in the middle of this cove, so it has no waves, just a lot of swimmers, kayaks, and sailboats.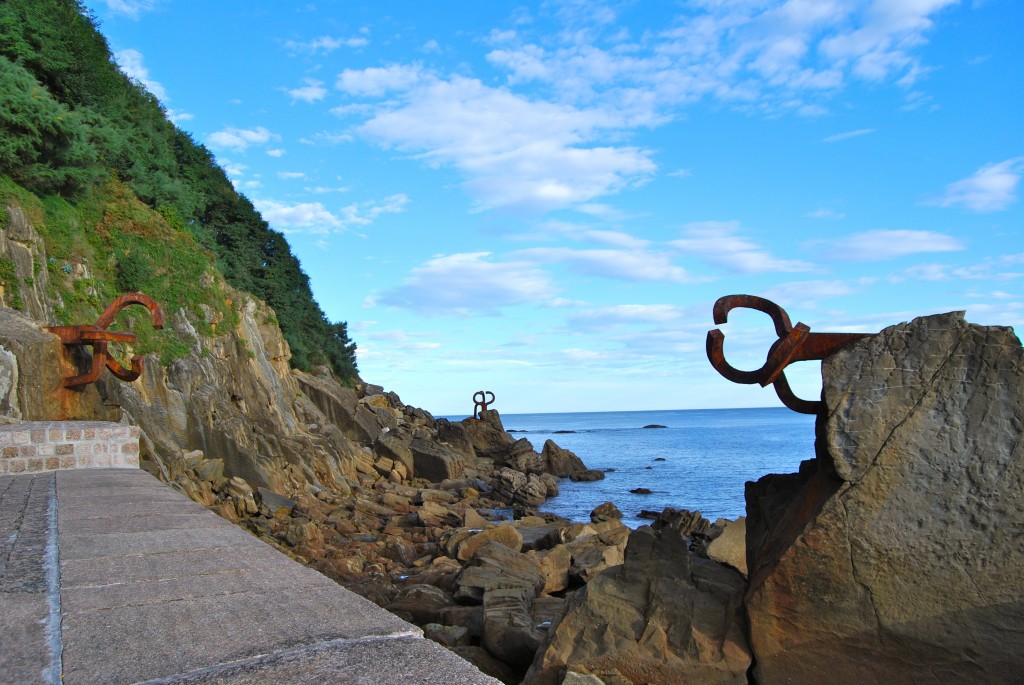 West of La Concha, but in the same cove is Ondaretta beach. On the water's edge of Ondaretta beach are the iron sculptures of San Sebastian artist Chillida. The scultpures are titled Combs of the Wind. It is from here that you can hike the other hill, Monte Igueldo, for more stunning views of the dramatic coastline.
FOOD
(Sorry, I might get carried away again. If you're not a foodie feel free to skip down to reflections. And if you don't care about my personal reflections, stop reading here.)
I read that Basque tapas are the most expensive, and the most inventive in Spain. I say that is the perfect combination for creating great food memories. Give me a good show. Make it delicious. I want to spend €2,00 instead of €1,00 and understand what all of the fuss is about.
As you wander through the marbled streets of town it seems as if every open door invites you into a café, bar, or restaurant, with a beautiful bar offering an assortment of delectables. Whether they be pintxas (Basque for tapas) or pastries; there is no inapropriate time of day to eat a pastel vasco or a gilda.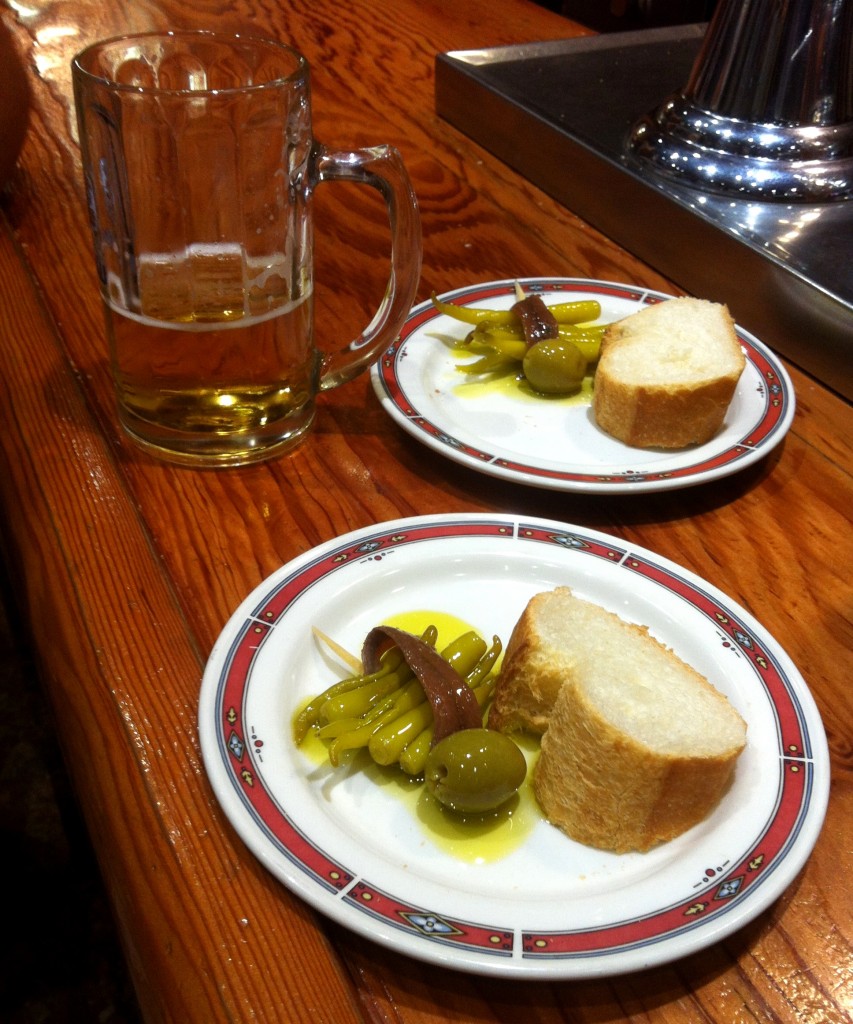 The gilda is the original tapa. (if you can make that word singular) It is simple, and if the highest ingredients are used, it's perfect. The anchovy has to be fresh, the olive ripe, the olive oil bright green and fruity, and the pepper a pickled guindilla. Bar Nestór has the best gildas. They also serve a famous tomato salad. It was here, with the gilda, that Phil and I discovered our true love for anchovies.
It was with the pastel vasco, that we threw complete caution to the wind and ate our way through every bakery for breakfast. Now that I am home, sipping drip-brewed coffee and eating oatmeal; I yearn for a flaky, buttery, mini pie filled with custard and toasted almonds. After having brought our pastry-eating to a new level I fear Phil and I will never be the same.
Since I'm still talking about food I've got to rave about the bread in the Basque Country. It's never mentioned in a guide book, but it's amazing. It, for sure, rivals that of France. Phil has specualted that this could be because the Basque culture (and land) is part French. After all, if the Basque hat is a beret; why wouldn't the French have severe influence on the baking as well?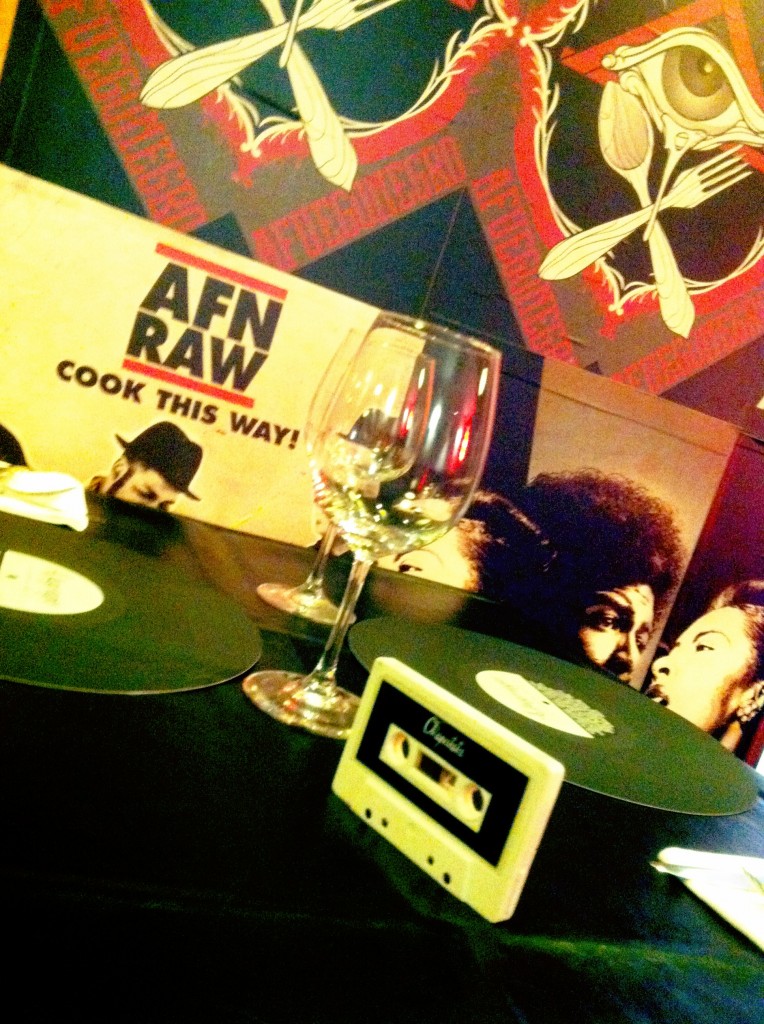 Since you're still reading, and I'm still talking about food, I've got to tell you about the best restaurant in the world. (I'm sure there are many Best Restaurant in the World's but this is the first one I've found.) It is called A Fuego Negro. We decided to go there one night for dinner because they had a Tapas Tasting menu. When I enter a normal tapas restaurant there are so many delicious looking options that I tend towards indecision. Also, I tend to avoid pintxas containing ingredients I can't identify. I wanted this night to be different. I wanted another culinary adventure. That is exactly what I got. Not only is the food at A Fuego Negro incredibly inventive; it is served up in an equally as inventive atmosphere by an incredibly cordial wait staff. I have discovered that my ideal evening is one that contains equal parts delicious food and entertainment. At A Fuego Negro we ate fried black squid, olives stuffed with vermouth, chicken ceviche, (yes. we ate raw chicken and it was amazing.) salted/smoked tuna over dreamy mashed potatoes, salad with steak and popcorn, dissected stew, (meaning all the ingredients of the local stew, broken down and grilled) olive and seaweed sorbet over very strong sheep cheese risotto, miniature kobe burgers with homemade plantain chips; and pears with wine sorbet & cola compote, and a zombie made of strawberry with white chocolate for dessert. These mini flavor bombs were creatively served on placemats made to look like records, at high-top tables, in a room with wallpaper of old rap, r&b, and soul album covers, to the sounds of old (enough) songs like No Diggity by Blackstreet, and other musical treasures like you'd find on the Shaft soundtrack. It was Funky. I was in heaven.
REFLECTIONS
In Short; this was supposed to be a surf trip with a stop at the Guggenheim. In Summation; it was an oddessy into a new culture and corner of the Earth with a stop at inner personal journey. Only with more time could we have done it better.
On this vacation I learned that I may not have what it takes to be Spanish…or Basque. Just because I can count to infinity in Spanish doesn't mean I've got what it takes to go to bed late and wake up even later. My genetics may not allow me to sunbathe until 7:00pm, eat dinner at 10:00pm, and club at 2:00am, for more than a week, without severely altering my me-hood. It was too weird.
I usually return from my travels boasting about the beer, or wine, of the region. Surprisingly, that didn't happen here. What most impressed me about the Spanish beer was its serving size. Unlike the liters of beer we are accustomed to drinking in Germany, in Spain you are never served more than 10 ounces. I found it quite refreshing and the exact opposite of gluttonous. Phil and I also couldn't help but notice the fashion in which the locals drank. Despite the already miniature portion of drink in one's glass, it appeared highly customary to leave a sip, or two left in the glass. We noted this to be true with wine or beer, and particularly with the older crowd.
This trip for us was really all about not falling prey to our own dissatisfactions. Certain things were not what I had built them to be in my mind. Especially me and surfing. I could have gotten cranky to the point of no return more than once, but Phil helped bring me back.All the other delights of Basque helped bring me back. Phil also triumphed over the burdens he carried on this trip; namely the fact that he was down-right sick the first three days. I find it miraculous that one could travel, under the weather, and still find enjoyment with naps lacking, no beer, food having no flavor, long walks, and museums. Luckily, he (we) had the mental fortitude to do what needed to be done…having fun.