This is my face. It's something I rarely share on social media anymore. Normally I don't have the time, or desire, to take photographs of myself. Since normal no longer exists I thought I'd start this post off with the most abnormal image I could think of.
Nina took this picture of me during our picnic lunch on the porch to celebrate Day #10 of social distancing. (or self quarantine, or lock-down, or isolation, or what ever other label one could think to describe this new life we are all living) Today is Day #12 (by the time most of you read this I'll be on Day #13) (Man! The time is flying by!) and we celebrated by pretending it was "Coronation Day" for the "princesses" and they needed to parade in their coach. In other words, me and the three kids took a walk around the neighborhood with toy horses in the wagon. We decided to bring our chalk in case anyone wanted an autograph on the sidewalk along the way.
This is my new life, finding a small way to make each day exciting and something worth celebrating. Quality of life is all about perspective and getting as creative as you possibly can to find the happiness. This is something I have always believed but never had to put in such heavy practice until now.
I hope the rest of you out there in this bizzaro-world are doing just as well. Has there been another time in the history of man where people were asked, then urged, then commanded to do nothing in order to save thousands of lives? It's an itchy feeling to try so hard to avoid all other human beings, to prevent something that is very difficult to fathom. It's also impossible to be comfortable with the destruction living like this is causing, and understand that things would be much worse if we weren't acting in this way.
Are we doing a good enough job? Trying hard enough? And for how long will this go on?
I'm asking these questions, as I'm sure are the rest of you, and I don't expect answers. You just gotta know that everything will be OK. You're a good human. You're doing a great job. And some day you're going to get your life back. I know it.
In the mean time let's talk about what you're doing. I'd love to know. I love you and I miss you and I want you to leave me a comment. Let me know you're out there. Did you find a new hobby? Are you working from home? How do your kids like home school? What's been your biggest hurdle so far with this?
These cute feet, as well as all the other photos are a shining example of toddler photography. Photoshoots are perfect for adding variety to screen-time entertainment.
Maybe you're wondering what else the kids and I have been doing with our new-found free time. Chores. I've been giving the kids more responsibility around the house. Lila's new favorite activity is cleaning out the fridge. Nina likes dusting the blinds and John John is thoroughly entertained by wiping off the base trim.
This afternoon however, the kids had it easy. We had our first FaceTime art project with a buddy. The kids made Rorschach prints. We looked at the prints and tried to recognize images in them. (I recommend this activity for craft seekers of all ages and abilities.)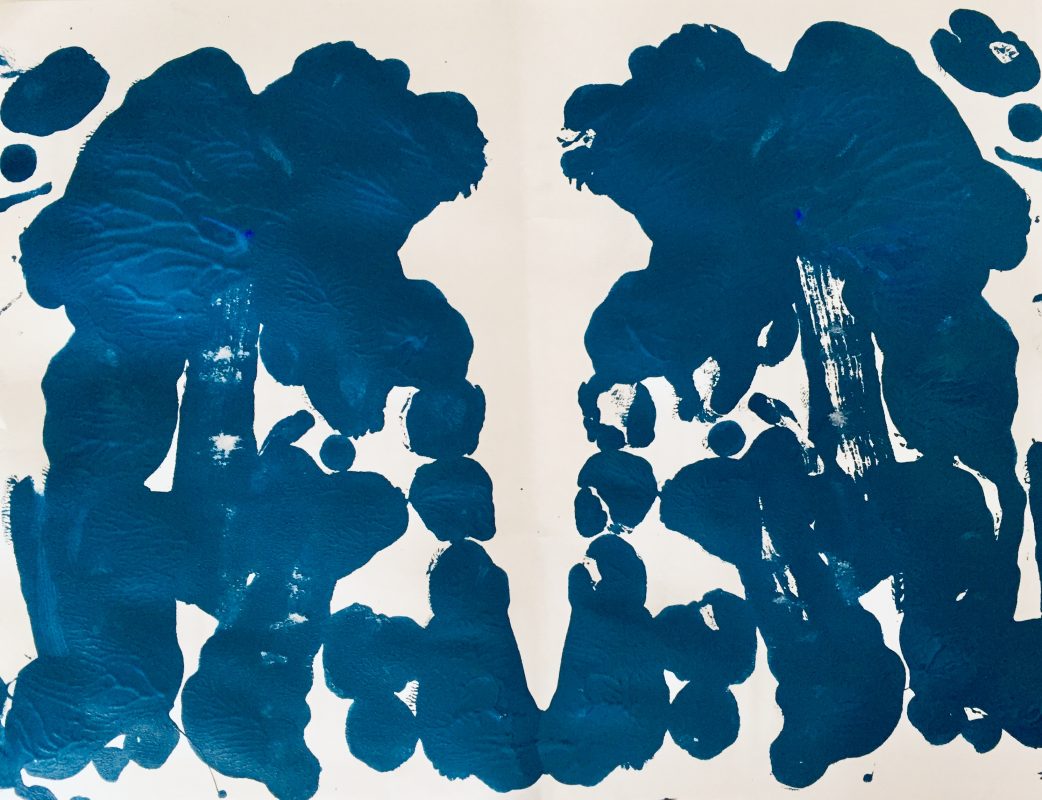 This is my favorite from the day. This print, like the others, was made by painting on one side of a piece of paper and then folding it in half. You get a mirror image of your marks on the other side of the paper, your paper is nice and full, and it creates lots of potential for finding recognizable images. More than one part of your brain gets exercise here, for sure. You might even find a bit of amusement.
By the way, did you know that Hermann Rorschach (the Swiss Psychologist who designed the personality test using these types of ink blots) was an absolute babe? He was doing the Brad Pitt-thing before Brad.
There's something new for you to think about.
This is me, signing off.
Remember…We're all in this together kids.