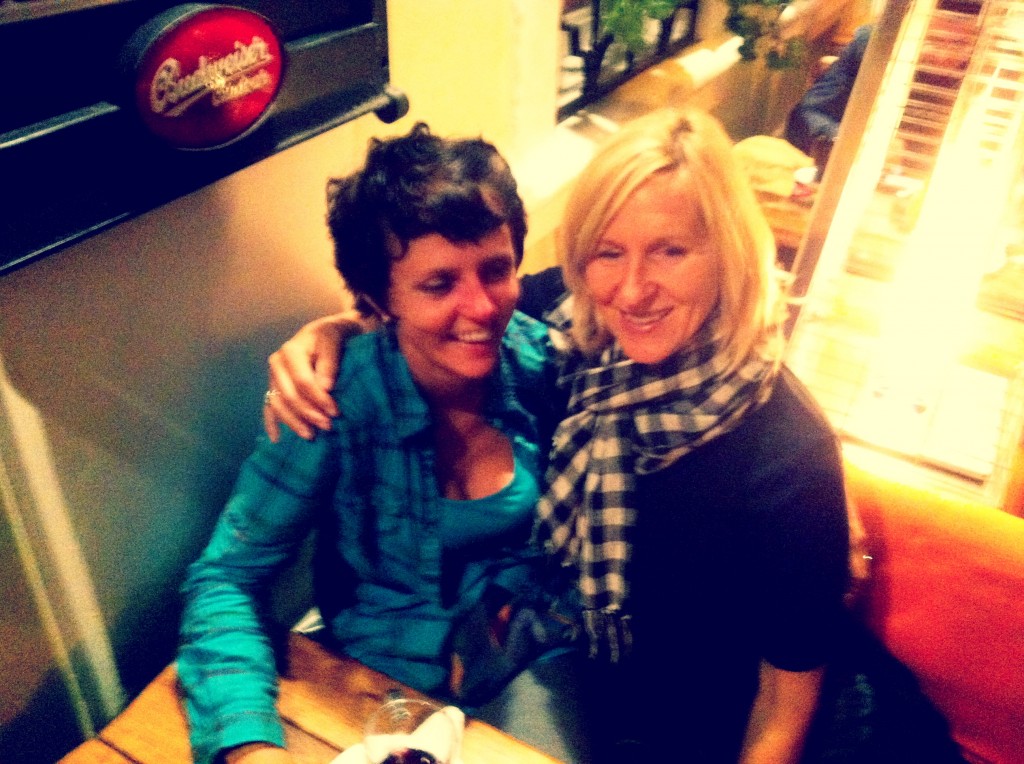 This morning I put my mom on an airplane headed back to New Jersey. It felt good; not because she was leaving, but because she had come. I have been back to New Jersey to see my mother (and the rest of my family) quite a few times since I have moved to Germany. When I go there, I am forced to share my mom with the rest of the people in my family.  And for her time, I have to battle the other elements of her life and work. Since she has come to me, I have had her all to myself. It's been a fabulous two weeks. Last week I wrote about the first part of her stay, and I am back to highlight the rest.
Early on in my stay here in Europe, I had the good fortune to visit Prague. I loved it and felt a real connection to the art, architecture, and general energy of the city. So, as impossible as it would have been for me to not bring my mother to the Alps, I knew it was equally as impossible not to show her Prague. My husband Phil had yet to explore Prague as well, so the three of us set out for a long weekend.
You can't drive to Prague and not stop in the city of Pilsen, home to the Pilsner Urquell brewery. We made this our first stop on our holiday. Czech beer is great, and even better than Czech beer is unfiltered, unpastuerized Czech beer. It's a special treat for any beer connoisseur, especially if he or she is in need of extra Vitamin B.
After a fun day at the brewery we traveled the remainder of the road to Prague. Upon our arrival we ditched the car for the weekend, checked into our hotel, and hit the town. I made sure to bring my travel buddies to my favorite building in Prague for dinner. It's the Municipal House. The building is an exhibition hall and auditorium with two restaurants, a café, and a bar. Built in 1911, it's Prague's most impressive example of Art Nouveau architecture and design.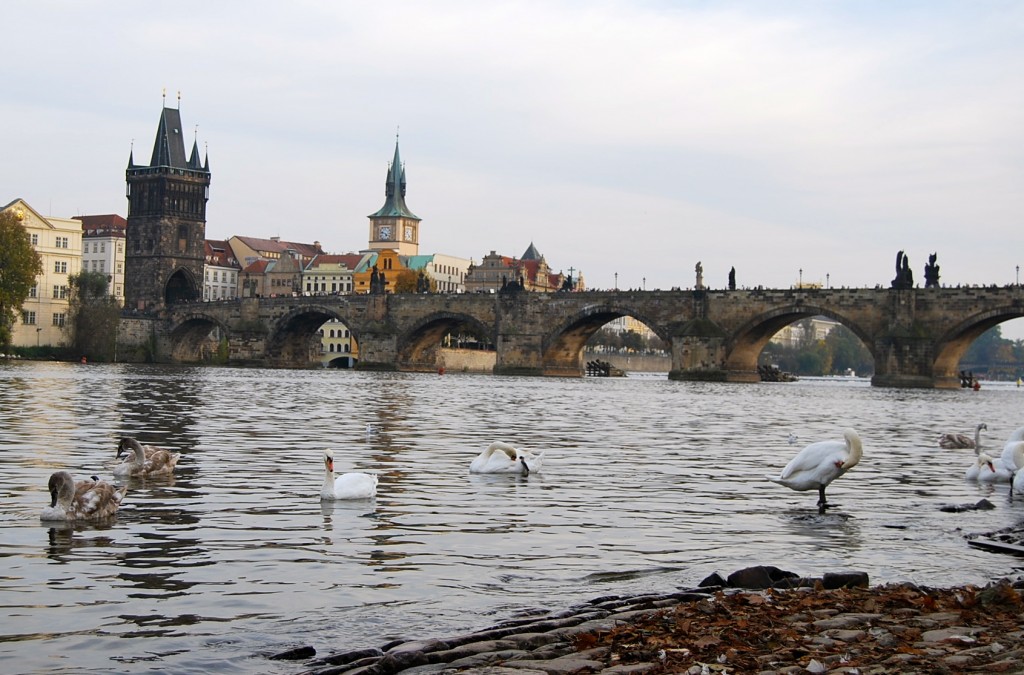 It was a lovely walk to the Municipal House from our hotel. We strolled up the left river bank and gazed up at ornate 15th century, four-story housing. We crossed the river at the famous Charles Bridge. We then wound our way through the streets of the Old Town, stopping to be enchanted by every form of street performer imaginable. With all of the charms offered along our path, it's a wonder we made it to our destination and didn't stop to sit captivated somewhere else instead.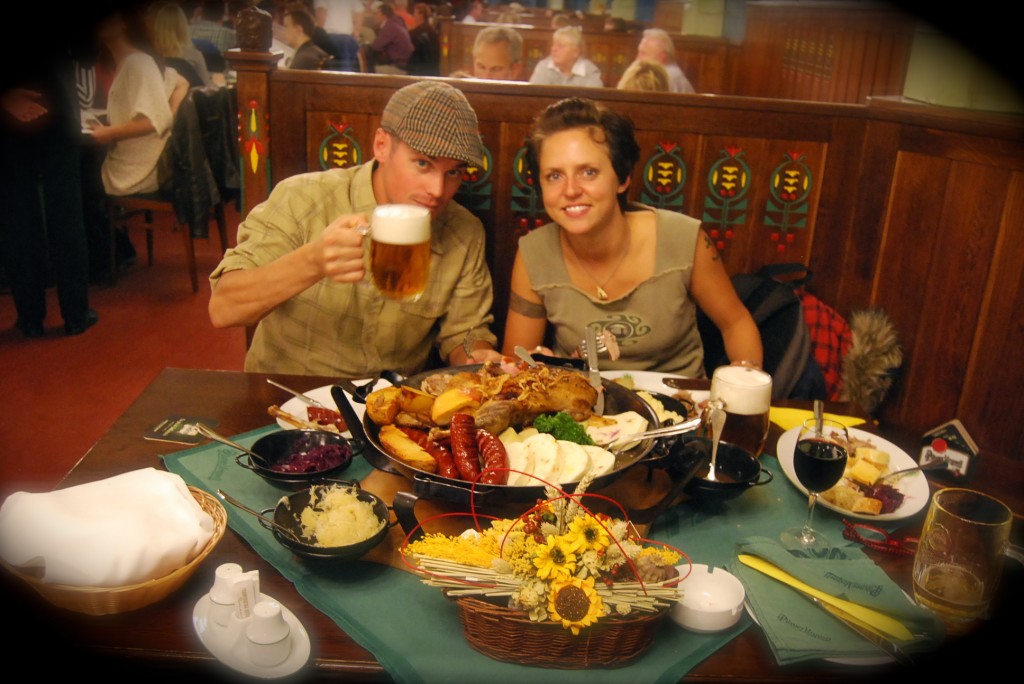 The Municipal House is home to the oldest bar in the city. We only went in for a peek however. We were hungry, and found it more appropriate to eat and drink rather than just drink. That night we dined traditionally in the Pilsen Restaurant; with beer, wine, and a Czech Fest Platter, in the company of hundreds of other jovial patrons, to the lively entertainment of Czech folk songs sung by a costumed duo. As you can see it was a feast, for the mind as well as the soul.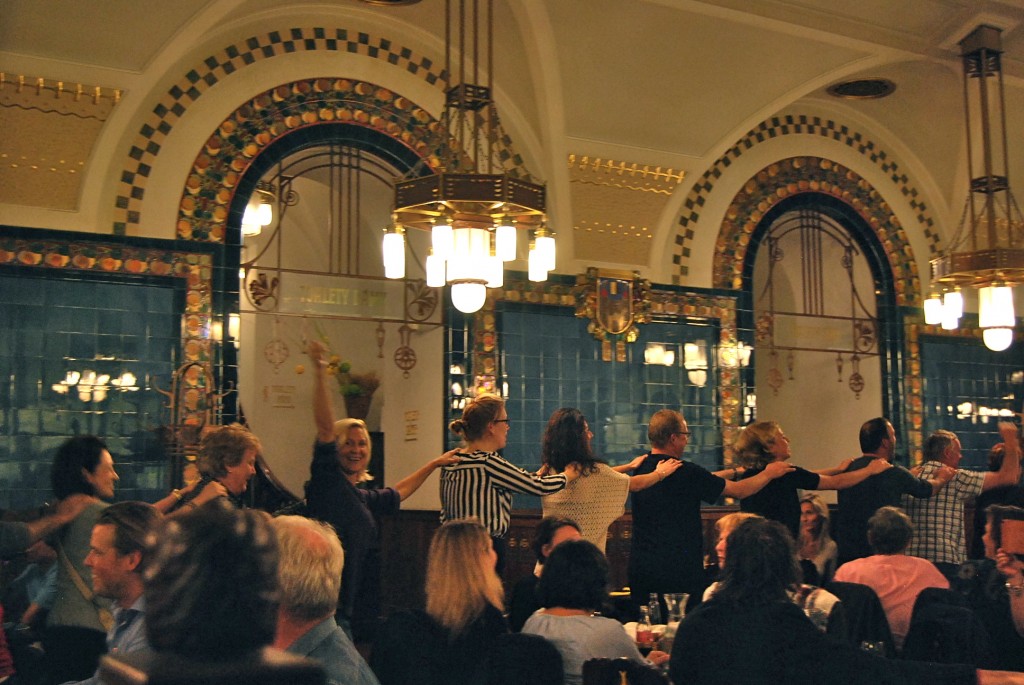 I find the Art Nouveau style of Art and Decoration to be terribly "enchanting". It is for this reason that I had to bring my companions to the Alfonse Mucha Museum, as well as to the Veletrzni Palace to visit Mucha's masterpiece The Slav Epic. Mucha was an extremely accomplished artist, and illustrator, of his time. It is for this reason, as well as his dedicated work for his people and culture, that he is worth the visit while touring Prague.
In addition to having a love for drinking, eating, and exploring; my companions and I share a love for live music. We were in agreement that a Saturday night in Prague would not be complete without a music stop. We found a perfect Jazz club, right next to a subway stop, and settled in for a little late-night-beer-and-pizza, and Jazz cover-tunes.
If it wasn't for the fact that public transportation stops at midnight, it may have been harder for our team to wake up on Sunday morning. But you've got to pay to play, the show must go on, and we were burning day light. After tea and coffee we took a brief walk through the Jewish Quarter of Prague. This is a very interesting, and beautiful, neighborhood in the city with a heart wrenching past. Unfortunately, it seemd that everyone else on the planet was on the streets the same time as us. The overcrowded atmosphere urged us to not stop and linger as long as we may have liked. We ventured forth; north to view the enormous metronome that now stands in place of a demolished statue of Stalin, and then around to the Prague Castle Grounds.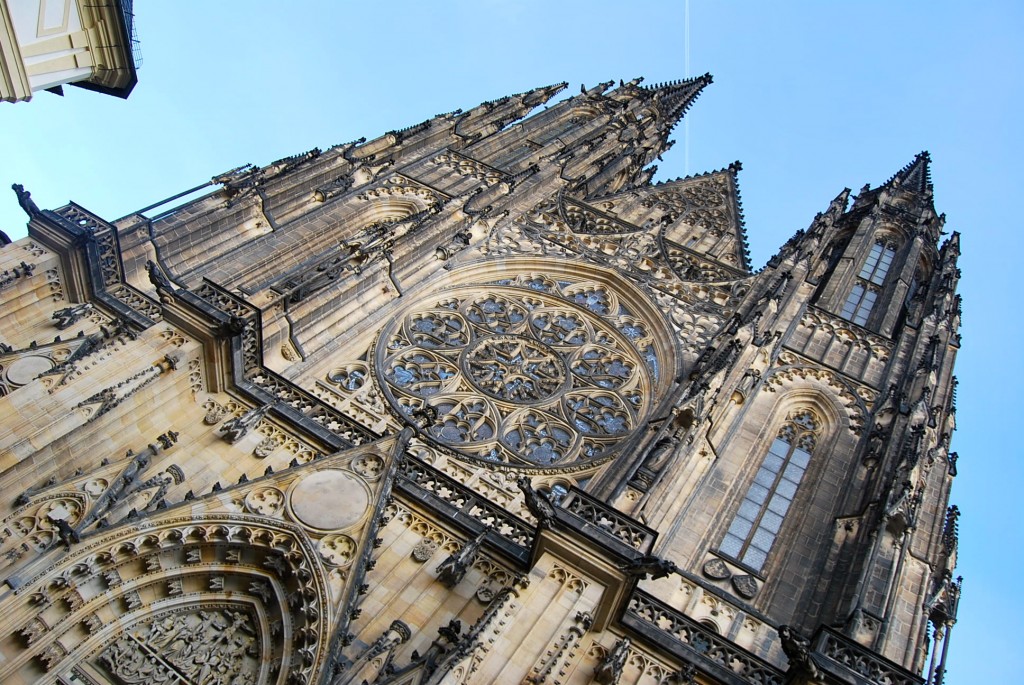 The castle complex is large, but we only entered a few of the sights. It's church, St. Vitus Cathedral, is the Roman Catholic pride of the country. It is a truly beautiful church, ornate from the inside-out. There we feasted upon the abundance of stained glass windows and painted ceilings. The highlight (in my opinion) is a window made by my very own, Alfonse Mucha. In addition to the church, the three of us had a fun time walking the Golden Lane.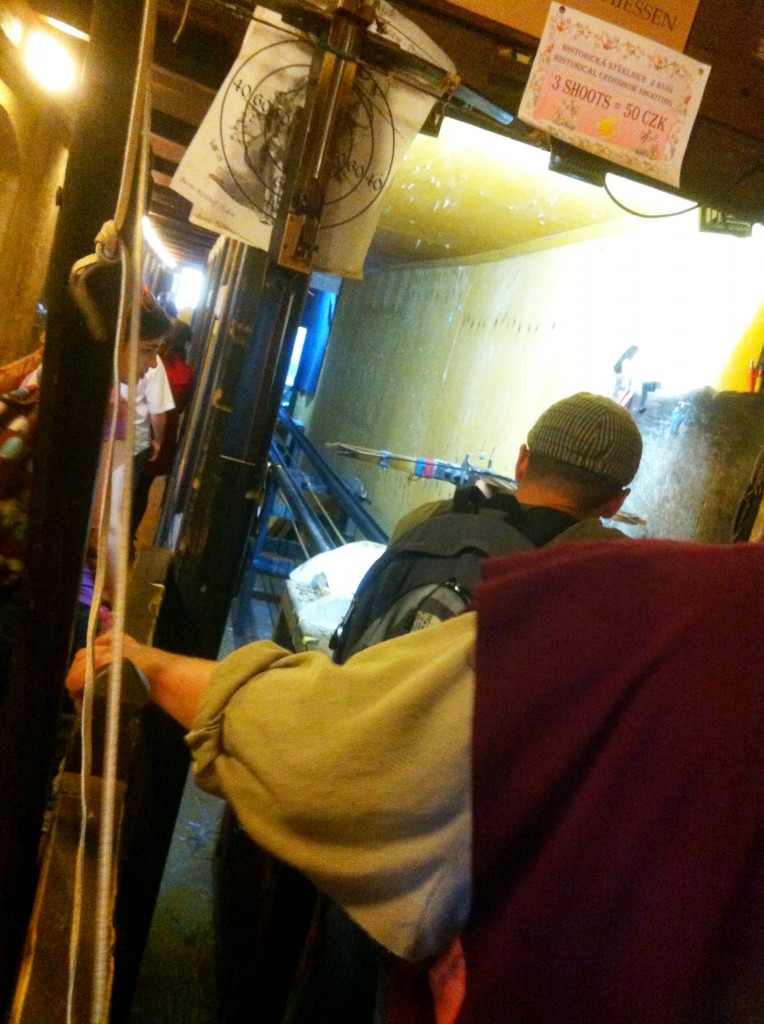 The Golden Lane is a short, narrow, 16th century street. It is lined with miniature houses built into the castle wall. The Golden Lane has an fascinating history. A highlight of its details is that Franz Kafka occupied one of its dwellings for a period of his life. The houses of the Golden Lane have, today, been turned into souvenier shops. In the long tunnel that runs above the homes, visitors can view displays of medieval armor and weapons. And for two bucks you can test your aim with a crossbow.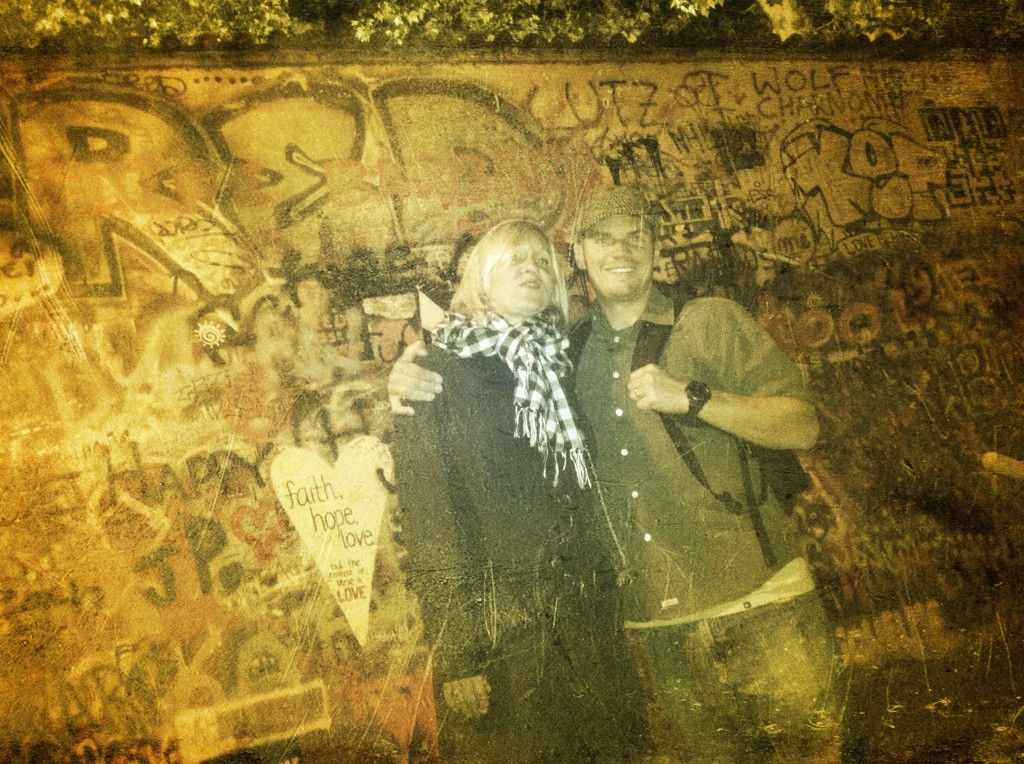 In the event that my brief account of our journey through Prague has not made it clear; allow me to confess that I can have a tendancy to become so wrapped up in learning history and facts on a vacation, that I may forget to relax. As fate would have it, my comrades were a bit to the lefter-side of traveling. So fear not. Our double-museum days were spotted with pub stops, strolls through gardens, trdelnik and hot potato indulgences, plenty of pee breaks, and the occasional pop-into-a-souvenier-shop.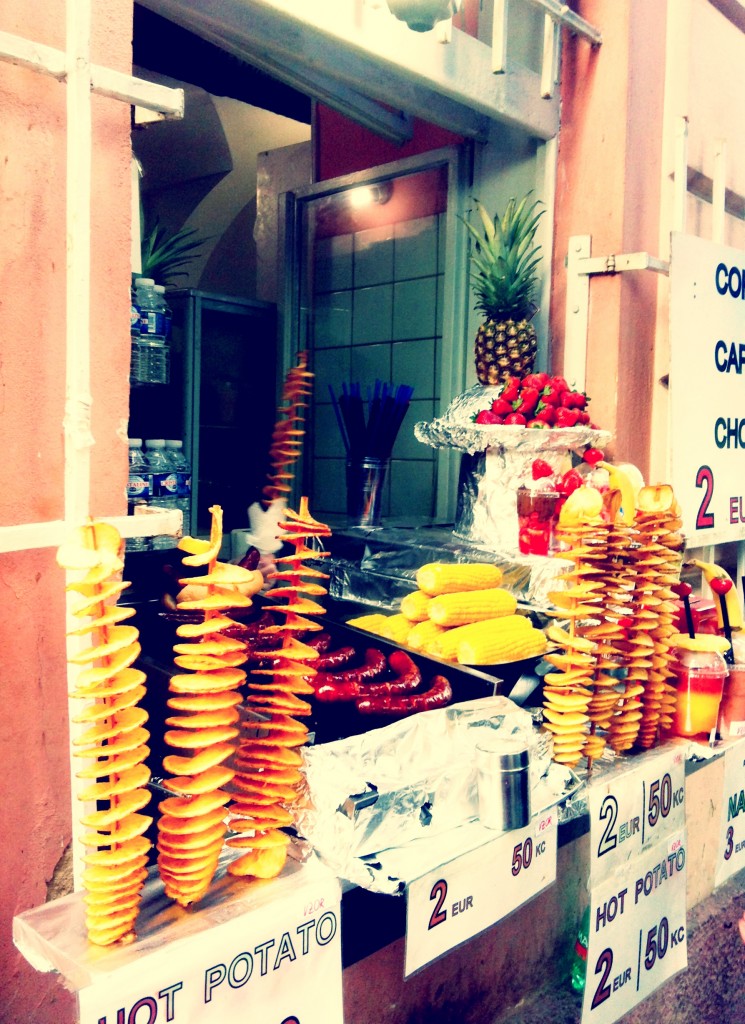 As I have stated, it's been a great trip. Not just Prague, but all cities included. Everyone was in good spirits, the weather cooperated, and I think we had the perfect balance of sightseeing and relaxing. I was able to share with my mother, my favorite things in Europe. This included my normal, everyday life too. When we weren't on the road, mom and I  savored plenty of time at home, in Ansbach. Just as we enjoyed a candle light dinner and Mozart concert; we enjoyed trips to my supermarket and butcher, coming home, cooking dinner together, and listening to the latest Robert Plant album. We spent as much time at my breakfast counter eating homemade scones and heating water for tea, as we did in various pastry shops. We painted our nails. We rode bikes to the local castle ruins and walked the farmer's trails as much as we drove on the autobahn. We laughed in the sun on my back porch. We sat on the couch and looked through Burda magazines, discussing far too many sewing ideas to ever complete. And post-travels, we even had time for a lazy movie marathon. We were explorer-travelers and we were normal. When you appreciate time as much as I feel like we have these past two weeks, there couldn't be a wrong way to spend it. During my mother's stay many people asked us, "Did you go here, did you see this?" Most of the time we'd answer No. There isn't enough time for it all and we didn't let ourselves feel the pressure.
I'm glad that my mother didn't visit me with the intention of cramming as much of Europe as she possibly could cram into one trip. I'm feeling fortunate that she came to see me.  The combination of her intentions and my lifestyle have defined her trip. She took a vacation; a break from her normal life. She traveled; she explored cities in three different countries of Europe. It was a holiday; it was a celebration (for her and for those with whom she was surrounded) of the enrichments of life.